It's easy to forget now, but the first bullet point in ESPN's 2010 draft profile of Avery Bradley read, "Explosive scorer." Sure, Bradley was regarded as one of the best perimeter defenders in college basketball during his one and only season at Texas, but it was his complementary offensive game that led ESPN to rank him as the top high school senior in the class of 2009 (ahead of John Wall) the year before.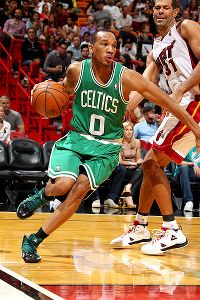 Issac Baldizon/NBAE/Getty
Avery Bradley's big fourth quarter set the stage for Jeff Green's game-winner against the Heat.But the biggest knock on Bradley in recent seasons at the NBA level has been his inconsistent offensive game. Neither bouts with injury nor the Boston Celtics forcing him to play point guard have helped his cause. But, hard as it is for some to believe (or at least remember back when when he bumped Ray Allen from Boston's starting lineup at the end of the 2011-12 season), Bradley has the ability to be an offensive weapon.
Lost in the hysteria of the Celtics' thrilling last-second triumph over the Miami Heat on Saturday night was Bradley's fourth-quarter scoring exploits. The 6-foot-3 forced-combo guard hit all four shots he took -- all in the final 6 ½ minutes of play -- while helping Boston hang around long enough for Jeff Green to hit the winning 3-pointer over LeBron James at the buzzer of a 111-110 triumph at AmericanAirlines Arena.
Bradley showcased much of his offensive toolbox during the quarter. When old friend Allen drifted too far, Bradley went catch-and-shoot on a midrange jumper as Boston battled to stick close midway through the frame. With Boston down seven with 4 ½ to go, Bradley darted behind the 3-point arc when Dwyane Wade strayed and hit a triple from the left wing. (Bradley probably deserved an and-1 as Wade knocked him down on the followthrough.)
Next trip down, Chris Bosh failed to blitz a pick-and-roll at the top of the arc and Bradley attacked, blowing past Bosh and producing a floater that sailed just over the top of Bosh's fingertips to make it a two-point game.
Down four in the final minute, Bradley put Allen on his heels on a drive, then buried a step-back midrange jumper with 38.4 seconds to play.
Bradley's buckets blended into the scenery given what unfolded from there, but his offensive contributions -- and his general comfort level while being moved off the ball and playing with Jordan Crawford in recent games -- shouldn't go unnoticed.