BOSTON -- Basking in the glow of a double-double performance that featured a team-high 10 assists, Jordan Crawford was asked about his passing skills after spearheading the Boston Celtics to a 120-105 triumph over the Orlando Magic on Monday night at TD Garden.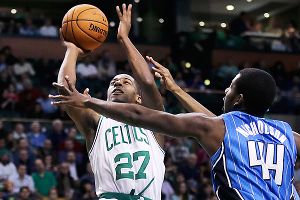 AP Photo/Charles Krupa
Jordan Crawford balanced his own scoring with setting up his teammates in Monday's win over Orlando."Y'all just now noticing that, huh?" he asked. "I was blessed with court vision. When a teammate is open, you find him."
Crawford did that with flare on Monday, often twirling his way to fancy dishes or passing up an open shot to feed a teammate for an easy basket at the rim. The 25-year-old Crawford produced only the fourth double-digit assist game of his career, adding 16 points (on 7-of-12 shooting), five rebounds and a steal over 32 minutes 36 seconds of floor time. He was plus-15 in plus/minus.
The Celtics are 4-0 since Crawford was inserted into the starting lineup to add a ball-handler next to Avery Bradley. Billed as a shoot-first guard throughout his career, Crawford was asked if he likes playing point this season.
"I feel that I'm a point guard," Crawford said. "That's other people that listed me at shooting guard."
Crawford's impact on Boston's offense is undeniable. Over the past four games, the Celtics own an offensive rating (points per 100 possessions) of 109.3 when he's on the court; it drops eight points when he's off the floor. The downside is an uptick in the team's defensive rating (104.4 when Crawford is on the court; 93.7 when he's off), but it's hard to argue with the end result, particularly with how well Bradley has played with Crawford next to him.
One other monster benefit of having Crawford on the floor as a ball-handling presence: Boston's turnover rate has plummeted. The Celtics were the worst team in the league in turnover percentage while dropping their first four games. In the four wins since, Boston's turnover rate drops to 13 percent when Crawford is on the floor -- it's still up at 18 percent for the season.
"I think he's really doing a great job," coach Brad Stevens said. "He's got a lot of confidence out there. He's always been a guy that had good confidence about him, but I think the thing that I've been most pleased with through really the entire time I've been around him is his consistency. That's an area in which you have to really embrace if you're going to be a good point guard because everybody's depending on you to be reliable on a day-to-day basis."
Stevens noted how he phoned Crawford during Sunday's offday (oh, to hear that conversation!) and spoke of how Monday's game was the team's biggest of the season coming off a thrilling (but flawed) win in Miami. During pregame warm-ups, Celtics president of basketball operations Danny Ainge slung his arm around Crawford's shoulders and imparted some friendly advice.
Crawford responded to the challenge and his evolving game isn't lost on his teammates.
"I think he's more mature," Jeff Green said. "I know he had a bad rep coming from the Wizards [as] just a one-way player. Now he's learning the game. He's playing both ends. He's bigger than a lot of guards so he can shoot right over them. And he has the mentality to turn it on when need be."