BOSTON -- The Boston Celtics scorched the field on Monday night against the Orlando Magic, shooting a season-high 60 percent (51-of-85) en route to a 120-105 triumph.
How does Brad Stevens explain how a team that ranked among the least efficient offenses in the league entering Monday's game shot that well, putting seven players in double figures?
"One of those days," shrugged Stevens.
Making it all the more impressive, Orlando entered as one of the league's top defensive teams, as opponents were shooting 40.3 percent (second lowest in the NBA). Boston had shot just 35.8 percent against the Magic in Orlando on Friday night (and had to scrap its way to a win). A glimpse of Boston's Zone Chart on Monday via ESPN Stats and Info: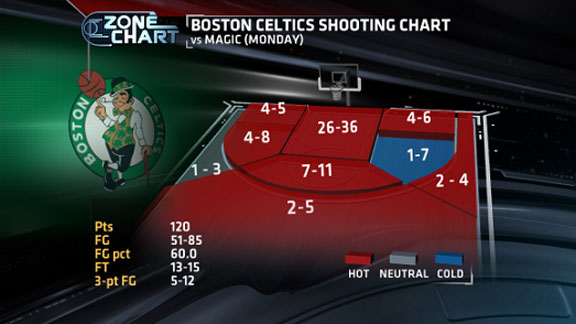 Magic coach Jacque Vaughn, whose team has lost to Boston twice in four days, joked after the game, "I think Brad should send me a fruit basket."
Oh, like the Magic need to watch the Celtics produce another basket.