BOSTON -- The Boston Celtics put together what may ultimately be one of their best offensive efforts of the 2013-14 season on Monday night. Boston shot 60 percent from the field, put seven players in double figures, and left the scoreboard operator begging for a break during a 120-105 triumph over the Orlando Magic at TD Garden.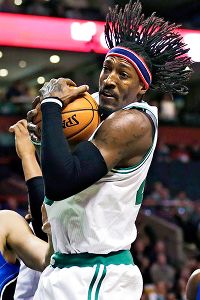 AP Photo/Charles Krupa
Although his scoring is down, Gerald Wallace is contributing to the Celtics in many other ways.
But allow us to spotlight the guy who missed the only shot he took, missed half his free throws, and contributed a measly one point to the effort.
Gerald Wallace chipped in five assists, three steals and two assists over 19 minutes, 25 minutes, but the number that really leaps off the page from his stat line is the team-best plus-20 in plus/minus.
As Celtics coach Brad Stevens noted after the game, "Well, plus-20 is the only points I care about. That tells you what I think of him."
You'll read plenty about Jordan Crawford, and with good reason after he put up 16 points and 10 assists and was plus-15 in Monday's win. Many will note that Boston's first unit has thrived since Crawford's insertion into the starting lineup at the start of the Celtics' four-game winning streak (and that's not in question).
But take a minute to consider the trickle-down effect of Crawford's elevation. The swap moved 13th-year veteran Wallace to a bench role, where he has likewise flourished as part of Boston's high-energy reserve squad.
The struggles endured by Boston's second unit were a big reason for the team's 0-4 start. Now, Wallace's presence is giving the Celtics a sustained second-unit attack.
Consider this: During this four-game winning streak, Boston's best on-court defensive rating is owned by Wallace. The team is allowing a mere 94.5 points per 100 possessions with Wallace on the floor during that span (well below the overall team average of 100.1).