BOSTON -- So here's the conundrum facing Boston Celtics coach Brad Stevens: His team has been pretty awful in the first quarter and those sluggish starts often have forced the team to rally from double-digit deficits.
Some Boston has overcome, consistently giving itself a chance to compete in the fourth quarter. But some, like the 19-point first-half hole the Celtics dug themselves on Wednesday night against the Memphis Grizzlies, are simply too much to erase. Despite a late burst, the Celtics fell to the Grizzlies 100-93 at TD Garden.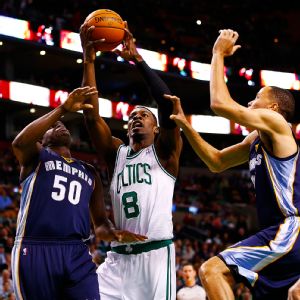 Jared Wickerham/Getty Images
Jeff Green and the Celtics have struggled in first quarters.Boston is averaging 22.5 points per game in the first quarter, ranking 27th in the league. The good news: They've been terrific in the second quarter, averaging 25.6 points, which places them eighth in the league. The bad news: The Celtics have been terrible again in the third quarter, averaging 22.1 points and ranking 27th in the league. (In case you're wondering, Boston averages 22.6 points per game in the fourth quarter, which also ranks 27th.)
Here's the more telling stat: Boston's average first-quarter differential is minus-3 points. That's the worst split of any quarter for the team. Boston is plus-1.7 points in the second; minus-1.8 in the third; and minus-1.6 in the fourth. The Celtics are playing teams close to even for the final three quarters, but the first quarters are putting them in a tough position.
Boston has had a handful of fast starts this season, which leaves Stevens uncertain what's causing his team to be slow out of the gates on other nights.
"I can't put my finger on it, and I wish I could," Stevens said. "Sometimes you just have to, as an individual or as a team, you just have to tweak something small, part of your routine.
"I think at the end of the day, we've started quick in some games too. So I don't know if it's an exact science. I do think this: Memphis looked like a championship-caliber team from a mindset standpoint that they had just lost two in a row."
That might have left Memphis playing with a bit more desperation than Boston, which was riding a two-game winning streak entering Wednesday's game. The Celtics eventually found a similar level while feverishly trying to rally as part of a 34-point fourth-quarter outburst, but it wasn't enough as Memphis fended off Boston at the finish line.
"We can't put ourselves in that position," Jeff Green said after Memphis outscored Boston 27-13 in the first quarter. "They just came out aggressive and our intensity wasn't there and it allowed them to put us on our heels and that's how they got their early lead."
What is it about the start of games?
"The first unit has to come out with that intensity," Avery Bradley said. "I have to come out with defensive intensity so I can lift everybody else up, and I haven't been doing a good job of that."
Green agreed. "We've just got to find a way to bring it, start off aggressive in the first quarter of each game," he said.
Ultimately, the hole Boston dug itself in the first quarter on Wednesday prevented it from having any real chance to win the game.
"The difference in the game was the first quarter," Stevens said. "Even when we were down 15 with three minutes to go, that was the difference in the game. So the willingness to fight is not something that I necessarily think we should single out as unique, but it should be the way that you go about your business all the time. And that's what this group, for the most part, has done in almost every game, with very, very few exceptions.
"I thought tonight was spurred by -- we were shooting shots that didn't have any pressure on us at the end of that game and our crowd was awesome. That was a fun atmosphere to be playing in."