WALTHAM, Mass. -- Boston Celtics guard MarShon Brooks has played only 41 minutes in six appearances this season. Despite being unable to consistently crack coach Brad Stevens' rotation, Brooks is waiting patiently for a chance to prove himself.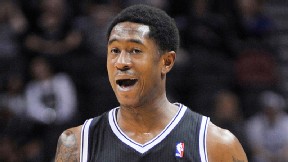 AP Photo/Darren Abate
MarShon Brooks is patiently waiting for his opportunity in Boston."I'm extremely confident," Brooks said. "I believe in myself. I might be a little rusty. I practiced today. I played pretty well. When you don't play for a while, you just don't want to do too much. You want to come in there and try to make an impression. So I'm just trying to go out there and play team ball, be solid and pick my spots, that's the main thing."
Brooks is averaging 2.2 points while shooting 26.7 percent over 6.8 minutes per game. Even with Boston's guard rotation thinned with Rajon Rondo rehabbing from ACL surgery and Courtney Lee missing the past two games with a knee injury, Brooks has seen only six minutes of floor time over the past seven games. He's been a healthy scratch 13 times this season.
"It's been challenging," Brooks admitted. "I've just got to be a professional and come to work every day and just understand that I'm blessed and that I have the opportunity to play in the NBA. When I get my opportunity, I'm just going to make the most of it and just do what I do."
Brooks was asked if a calmer December schedule, giving the Celtics the ability to practice more, might afford him the chance to better state his case for playing time.
"Absolutely. Just having an opportunity to play, compete, go at guys, try to earn some minutes," Brooks said. "When you have practice a couple days and then you get on the court, everything comes a lot smoother. When I wasn't playing, if I didn't play five times in five games, I was out here simulating playing against [assistant coach] Jay Larranaga, but it's different when you're going out there and playing and competing against pros."
Asked about Brooks' attitude despite a limited role, Stevens noted, "I think he's been good. He's been very positive. He's had a good way about him the whole time. He's a guy that can come in and impact your team. He was sitting over there ready the other night. You could see it. And I was going to put him in earlier and then we kind of went on a little run and I said, if it starts going the other way at all, you're going in. He did a nice job while he was in."
Brooks was asked if he had pondered asking for a trade given his lack of playing time.
"It's too early for that," Brooks said. "It's way too early for that. I trust Brad Stevens. He told me I'm going to get my opportunity. So I'm just waiting on my opportunity honestly."