Forsberg: C's, Nets in unexpected places
December, 9, 2013
12/09/13
9:45
PM ET
NEW YORK -- Boston Celtics guard Keith Bogans still is friendly with many players on the Brooklyn Nets. He often trades text messages with Deron Williams, Joe Johnson and Andray Blatche, and is well aware of the team's early struggles.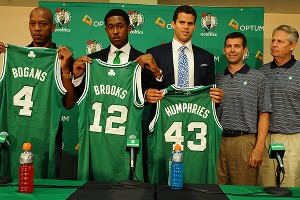 Brian Babineau/NBAE/Getty ImagesKeith Bogans and the former Nets didn't look thrilled at their summer introduction, but they're smiling now.
A wry smile forms when he's asked about the fact that Boston's "rebuilding" team currently sits atop the Atlantic Division with a three-game lead over the so-called dream team that he was traded from.
"Whoever would have thought when the trade went through that Brooklyn would have the record they have, and Boston would have the record that we have right now," Bogans said.
Probably not Bogans. A couple of weeks after Paul Pierce, Kevin Garnett and Jason Terry were introduced at a glitzy press conference at the Barclays Center, the Celtics held a small gathering at their practice facility in Waltham to introduce Bogans, MarShon Brooks and Kris Humphries. (Gerald Wallace was excused to run a youth basketball camp in his native Alabama -- and also to wrap his head around the deal.)
A photo-op led to a viral moment. The three new Celtics looked forlorn holding up their new jerseys next to first-year coach Brad Stevens and president of basketball operations Danny Ainge. Stevens is the only one smiling.
Bogans has only fond memories from his time in Brooklyn, where he got a chance to jump-start his career again after a broken ankle wiped out much of his 2011-12 campaign with the team. The trade earned him a hefty pay increase and the fact that Boston has a better record only sweetens things.
Asked if he needles any of his former teammates about their rough start, he smiled again.
"Reggie [Evans]," Bogans said. "I've got to let Reggie have it."
When the Nets visited Boston for the teams' preseason finale in October, Evans found a couple of lemons in the visiting locker room at TD Garden. He grabbed a marker and had teammates autograph them before having a ballboy deliver them across the hall to Bogans and Brooks.
The insinuation: Life handed them lemons, so enjoy the sour taste of losing.
"[Evans sent] me lemons and text messages, telling me how they're going to whoop our [butts] when we come to Brooklyn," Bogans said. Then he shook his head and smiled again. These Celtics have made lemonade.
(
Read full column
)
PODCASTS
Peter King, NFL
Play Podcast Sports Illustrated's Peter King weighs in on the Patriots' offensive line, the outlook for New England, Jim Harbaugh's relationship with his team and the Cowboys' success.
Opening Rant, 9/30
Play Podcast Colin Cowherd shares his thoughts on the state of the Patriots, New England's offense and Brady Hoke's future at Michigan.
First Take
Play Podcast Skip Bayless & Stephen A. Smith debate if the Patriots dynasty is over, if the 49ers have stopped listen to Jim Harbaugh and more. Plus, they make their World Series predictions.