WALTHAM, Mass. -- The scouting reports on Avery Bradley were scathing entering the season. Bradley, who missed the first two months of the 2012-13 campaign while recovering from double shoulder surgery, had labored through an abysmal offensive year and was pegged a "regressed shooter" and "horrible in the pick-and-roll." He was labeled a "defensive specialist," a backhanded compliment that suggested the All-Defensive second-teamer didn't have even a serviceable offensive game.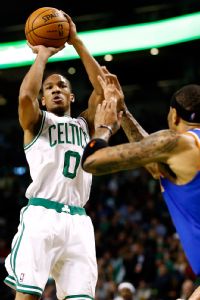 Mark L. Baer/USA TODAY Sports
Avery Bradley has elevated his offense over the past eight games.Bradley just gritted his teeth and used it as motivation.
"I always knew that, once I got an opportunity, I'd be able to show that I'm an offensive player as well," he said.
Over his past eight games -- a span in which Boston has posted a 5-3 mark -- he's proving it. Bradley is averaging 14.9 points on 49 percent shooting, including 58.6 percent (17-of-29) beyond the 3-point arc. Sprinkle in 4.5 rebounds and 1.3 assists, all while driving down his early-season turnover woes, and Bradley has been one of Boston's best two-way players in recent weeks, as evidenced in part by being plus-70 in plus/minus during that span.
But it's his advanced offensive numbers that are staggering.
According to Synergy Sports data, Bradley is averaging 1.112 points per play over the past eight games (119 points on 107 possessions). To offer some perspective, of players with at least 350 total offensive possessions finished this season, LeBron James ranks tops in the NBA at 1.127 points per play overall. If Bradley maintained his recent production, he'd rank second in the NBA.
Bradley started this season painfully slow on the offensive end, ranking among the league's most inefficient players in part because of his high turnover rate early in the year. Through 25 games, he's now averaging 0.883 points per possession (331 points on 375 possessions), which ranks him 38th in the NBA using that same 350-play minimum.
Bradley has emerged as one of the league's most consistent midrange shooters, thriving when defenders sag on him in the pick-and-roll. He has found the stroke on his corner 3-pointer, a shot that helped him supplant Ray Allen in Boston's starting lineup two seasons ago.
If Bradley maintains his current level of play, people might actually start talking about his offense just as often as they reference his tenacious on-ball defense.