As the Boston Celtics broke the huddle at the end of a recent practice, some players scurried off to the locker room, others grabbed a ball and an assistant coach then dove into some light shooting drills. At one end of Boston's training facility, Kris Humphries positioned some cones and lined up some competition.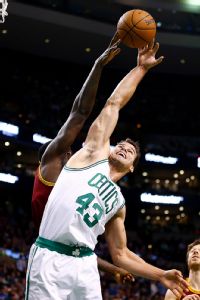 Jared Wickerham/Getty Images
Kris Humphries has averaged 6.9 points and 4.8 rebounds while playing stellar defense in his past 16 games.Humphries soon launched into a series of 17s, a grueling conditioning drill in which players attempt to run back and forth on the 50-foot baseline 17 times in the span of a minute.
Humphries often found himself running next to smaller, quicker guys, from rookie point guard Phil Pressey to coaching associate/head video coordinator Kwame Graves-Fulgham. The same sequence often played out: Humphries lagged behind his running mate early, then seemed to explode to the finish line on the final sprint.
Everyone watching just shook their heads. Typical Hump.
Humphries is one of the hardest workers on the Celtics. When his playing time was limited at the start of the season, the 10th-year veteran would hop on a treadmill after games to simulate what he had missed on the court.
When rookie Kelly Olynyk sprained his right ankle in late November, it opened up a door for Humphries, who has carved out a role as one of Boston's key bigs over the past 16 games.
On Saturday, Humphries was the first player off the bench for Boston and chipped in 10 points on 4-of-7 shooting with three rebounds over 17:19.
What's more, he might have provided the most under-the-radar play of the game when he switched onto Kyrie Irving late in a two-point game and denied him the ball coming off a stagger screen. Humphries alertly switched when Avery Bradley got pinned by Anderson Varejao, and he shuffled out beyond the 3-point arc on the weak side to prevent Dion Waiters from putting the ball in the hands of Mr. Fourth Quarter.
It shouldn't come as much of a surprise. Humphries quietly has been making a lot of quality plays lately.