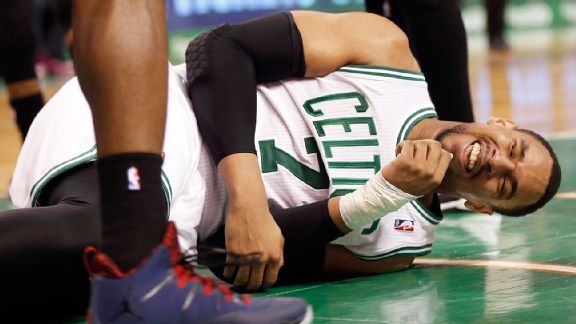 Winslow Townson/USA TODAY Sports
Jared Sullinger aggravated a left-hand injury against the Hawks.BOSTON -- Boston Celtics center Jared Sullinger aggravated a left-hand injury while falling to the TD Garden floor in the first half of Tuesday's 92-91 loss to the Atlanta Hawks.
Sullinger landed hard on his hand, one that he noted earlier this week has a deep bone bruise and sprained ligaments, after going up with a shot in traffic. The injury has lingered since late November when he originally injured the non-shooting hand during a game in Charlotte.
Sullinger retreated to the locker room with under a minute to play in the second quarter, but returned for the start of the second half. He played only 6 minutes, 22 seconds after the intermission, but that was due in large part to how well the reserve frontcourt of Kris Humphries and Kelly Olynyk was playing, and Sullinger noted he would have been available to return.
"Hump had a roll, so I don't know why I would have even come back in," said Sullinger. "[The reserves] had a roll going, they played really well, and we were just going to ride the wave."
Asked if he understood that Stevens was riding the hot hand, Sullinger added, "It doesn't bother me at all, because when you've got somebody like that, and Kelly was on fire, Hump played really well defensively and offensively, so why even come in and mess up the groove? You might as well let them stick it out and play hard. I thought they carried us down the stretch."
Sullinger wore a protective glove during practice earlier this week and taped his left hand and wrist heavily for Tuesday's game. He's noted that the injury is only an issue when he gets hit in the right spot on the top of his hand.
Celtics coach Brad Stevens said Sullinger would have the injury reevaluated after the game, but he hadn't undergone any further testing when he spoke to reporters.
Asked if he planned to play during Thursday's visit to Chicago, Sullinger offered a firm "Yes." Asked how the injury is limiting him, he replied, "I don't know. I could care less."
Sullinger finished with two points on just 1-of-6 shooting, but grabbed 10 rebounds and dished out three assists during Tuesday's matinee loss to the Hawks. He was a team-worst minus-20 in plus/minus over 19:51.