Jerryd Bayless is probably wondering what he got himself into.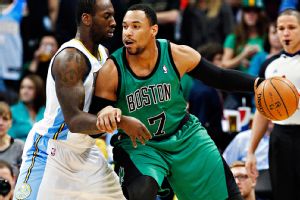 Isaiah J. Downing/USA TODAY Sports
A third-quarter ejection saved Jared Sullinger from enduring any more of Boston's lifeless effort against the Nuggets.Bayless, formally acquired from the Memphis Grizzlies on Tuesday as part of a three-team swap, didn't have a particularly crisp debut, which is to be expected of a backup point guard with little more than a shootaroud with his new team, but he did give effort. And that's more than most of Boston's roster can say on the heels of a 129-98 dismantling at the hands of the Denver Nuggets.
For the second straight game, the Celtics gave up a season high in points, this time with Denver taking whatever it wanted. The Nuggets shot 60.6 percent (20 of 33) around the basket and 45.2 percent beyond the 3-point arc (14 of 31). Boston's perimeter defense was nonexistent, whether it was defending the 3-point stripe or trying to stop Denver's guards from attacking the basket.
The frustration bubbled over in the third quarter for Jared Sullinger, who got tagged with two flagrant-1 fouls in the span of 23 seconds and was ejected from the game. Sullinger committed a hard foul on J.J. Hickson trying to prevent a layup in transition, then caught Kenneth Faried with an elbow to the face trying to make a move to the basket on Boston's next offensive possession.
Sullinger, so vital when Boston played its best basketball of the season, has struggled recently, hindered by a hand injury that's nagged him since late November. With the Celtics enduring a fifth straight loss (and eighth in nine tries), it's clear there's frustration for some Boston players.
But maybe not enough.
The problem lately is that not enough players are translating frustration into effort. Everyone knew this road trip was going to be tough, but through two games the Celtics have shown an alarming tendency to just roll over when the team encounters adversity.
Celtics coach Brad Stevens can deal with losing. He can't tolerate a lack of effort.
Which is why there was an extended pause when he was asked after Tuesday's game if there were any positives he could pluck from his team's play. Stevens ultimately singled out Bayless, who missed eight of the 11 shots he took while finishing with six points over 25:26 in his Boston debut.
But he was one of the few guys to play with consistent effort and that's what resonated with Stevens.
Veteran Gerald Wallace said before this trip that it would likely define Boston's season. He challenged his teammates again after Tuesday's loss, suggesting they need to take all their locker room chatter about turning things around and back it up on the court.
As Wallace noted, until this team plays with better effort, it's all talk. And while it's great that Wallace, a 13th-year veteran, is uneasy about the team's recent play, it'd be better if the guys tasked with doing the heavy lifting on the court played with the urgency he suggests is being talked about in the locker room.
Ultimately, Boston's ability to get back on track rests on defense, which itself is just effort. The Celtics have masked their inherent flaws (most notably an anemic, turnover-plagued offense) at times this season by buying into Stevens' defense-first system. But lately the Celtics have eroded on that end of the floor, struggling to stop teams in transition and offering little resistance to opposing ball-handlers. The result? Boston has plummeted from a top-10 defense to tied for 17th overall in defensive rating while allowing 103 points per 100 possessions through 35 games.
In losing eight of its last nine, Boston's defensive rating has been a cringe-worthy 108.3, ranking 27th in the league during that span. Opponents have shot 46.6 percent over the last nine games and 36.8 percent beyond the 3-point arc while averaging 105.3 points per game.
Defense isn't the only issue, but it's the one area that can at least give the Celtics a chance when they execute for the better part of 48 minutes. Until that happens, this team is going to struggle, and an unforgiving January schedule will do them no favors, particularly on this road trip that still has three games in four nights remaining against three of the top five teams in the loaded Western Conference.
You can make the case that Tuesday's visit to Denver was maybe Boston's best chance to get a win this trip. Instead, the Celtics caught a Nuggets team playing some inspired offensive basketball (377 points scored during its three-game winning streak). As a result, a Boston team staggering to its feet after Sunday's body slam in Oklahoma City simply got clotheslined back to the mat.
Bayless pledged to help the Celtics get better in any way he can. His new teammates can start by trying to match his effort level from Tuesday's game and build from there.