For most of the 2013-14 season, Boston Celtics big man Jared Sullinger has been one of Boston's most consistent performers, spearheading some of the team's most inspired play early in the year. Before a lingering hand injury sent him into a recent slump, a case could have been made that Sullinger was Boston's best player.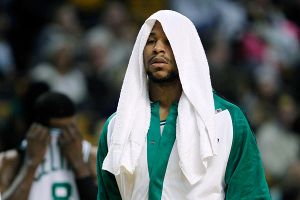 AP Photo/Charles Krupa
Jared Sullinger will reach 82 career games on Monday.Despite his efforts in his second NBA season, Sullinger had been told by his more veteran teammates that he was still a rookie until he played 82 games. With his rookie season cut short after 45 games due to back surgery, Sullinger needed another half season to advance.
Graduation day arrives on Monday when Sullinger should appear in his 37th game of the season. While he's avoided most of the rookie chores this year (handing out towels or water after practice; fetching peanut butter and jelly before games), he had been tasked with parenting the first-year group that includes pure rookies Vitor Faverani, Kelly Olynyk and Phil Pressey.
Through 81 career games, Sullinger is averaging 9.1 points and 6.5 rebounds over 22.6 minutes per game. He had started 23 games this season before his recent slump and, with Boston needing to get Kris Humphries' energy and effort on the floor, Sullinger recently shuffled back to a reserve role. Sullinger has steadfastly stated he's more concerned about his production than his role.
Sullinger's last two games have seen him average 17.5 points and 10.5 rebounds over 29.5 minutes per contest. For the season, he's at 13.1 points and 7.4 rebounds over 26.1 minutes per contest. While the slump bit into just how well the Celtics have played with Sullinger on the court, he still owns the third best offensive rating on the team (100.7) and third best defensive rating (101.4) among regulars. Sullinger owns a team-best offensive rebound rate (11.9 percent) and is second only to Humphries in total rebound rate (15.6 percent).
It would seem there's only so long that Sullinger can remain with the second unit, though he continues to play well when paired with Olynyk in the Boston frontcourt. The Sullinger-Brandon Bass pairing has struggled recently, and coach Brad Stevens has consistently fretted the team's lack of size with that tandem paired as starters. And then there's Humphries, who might be playing the best basketball on the team at the moment and has forced his way into the starting group with his energy.
Of course, having Sullinger perform at a high level again is not a bad problem for Stevens to have. The Celtics, losers of eight straight and 11 of 12, need Sullinger playing at a high level to steady this season a bit.
But remember, this season is all about development and advancement. As Sullinger becomes a sophomore, it's clear just how much his game has grown through one full NBA season worth of games. His teammates held him back a grade in name only.