Newly acquired guard Jerryd Bayless will play his first home game with the Boston Celtics on Monday night, and the pro shop probably doesn't need to put a rush on printing replicas of his No. 11 jersey.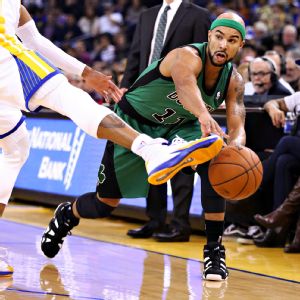 Kelley L Cox/USA TODAY Sports
Since joining the Celtics, Jerryd Bayless has 17 assists in four games.That said, Bayless showed some encouraging signs during a four-game glimpse after joining the team out west, and early indications are he can be a good fit for what Boston has long needed off its bench.
The Celtics snagged the 25-year-old Bayless, a former lottery pick (11th overall in the 2008 draft), last week as part of a three-way trade that sent Courtney Lee to Memphis.
The obvious benefit for Boston was shedding the two years and $10 million remaining on Lee's contract after this season, offering the team greater flexibility while navigating its transition process. What got diminished a bit with so much focus on the money is that Bayless is a guy the Celtics have liked for a while and believe can be part of their future even with an expiring contract.
There's no doubt that Lee was having an excellent individual season, shooting at career-high rates from the field and beyond the arc. But the numbers suggested the bench didn't thrive when Lee was on the floor. As the team prepares for Jordan Crawford to shuffle to a reserve role with the impending return of Rajon Rondo, Lee and his bloated contract became expendable.
Enter Bayless, who in four games since joining the Celtics has handed out 17 assists. By comparison, Lee had 16 assists in the entire month of December.
Bayless' early distribution is even more impressive considering the team likely has given him only a small sampling of the playbook and immediately asked him to direct the second-team offense.
Lee often noted that the Celtics had asked him to work on his ballhandling as, lacking an experienced point guard and with Rondo injured, the team needed players who could facilitate the offense. Lee's turnover percentage the past two seasons had spiked, diminishing the impact of his scoring.
Bayless hasn't been perfect, but we've seen glimpses of how he can quarterback the second unit. When Crawford shuffles back to the reserve group, that will give Boston two capable creators who also have the potential to get hot with their own shot.