BOSTON -- Give the Boston Celtics this: They've had plenty of potential excuses for their current nine-game losing streak -- a young team, a flawed roster, a first-year coach, tougher competition, an extended road trip, a midseason trade -- and yet Brad Stevens refuses to let his team lean on any of them.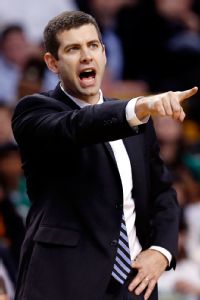 AP Photo/Elise Amendola
Brad Stevens doesn't want to hear about travel or fatigue contributing to the Celtics' nine-game losing streak.
Case in point: The Celtics, fresh off a winless five-game trip out west that closed with four games in five nights, trekked cross-country on Sunday and welcomed another Western Conference power in the Houston Rockets on Monday night.
Boston started fast, but faded quickly. The Rockets dominated the middle quarters, built a 20-point lead, then navigated a Hack-a-Howard attempt and a Celtics charge before emerging with a 104-92 triumph at TD Garden.
Asked about the challenges coming off the road trip, Stevens opened his postgame news conference by immediately discarding the notion of fatigue.
"I told our guys afterward, I don't want to be the team that talks about the travel and then having to play," Stevens said. Later he added, "I don't want to be the team that uses that. Is it a reality? Is it a factor? Might be. But is it something that I want to talk about? No. I don't think that way, and I think that's why you have 14 guys -- go after each opportunity."
Stevens opened up his rotation Monday, employing 13 of his 14 available bodies, including a late-game combination that featured a new face (Jerryd Bayless), a player fresh off a D-League assignment (MarShon Brooks) and a recently demoted forward (Brandon Bass) playing the entire fourth quarter.
Stevens' message seems to have been received by his players. Inside the locker room after Monday's game, Jared Sullinger sported Kinesio Tape on his neck, which he reluctantly noted had been spasming during the game.
"We don't use excuses around here," Sullinger said. "[Fatigue is] not an excuse, it's not something you can hide behind. We're fighting, we're playing hard. Fatigue is out the door. We can't use that as an excuse."