Captain Comeback: Rondo's return
January, 18, 2014
Jan 18
2:05
AM ET
BOSTON -- Rajon Rondo was so focused on the fact he was about to play his first game in nearly a year, the words spoken by Boston Celtics public address announcer Eddie Palladino during lineup introductions didn't even register with him.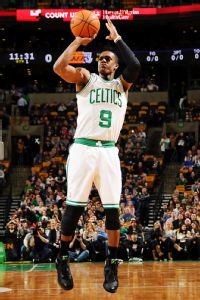 Brian Babineau/NBAE/GettyOther than missing a potential tying 3-pointer in the closing seconds, Rajon Rondo had an encouraging return to the court.
And at the other guard, 6-1 from Kentucky, the captain, No. 9, Rajon Rondo
.
Captain? Rondo's teammates began congratulating him on becoming only the 15th captain in Celtics history, but Rondo was unaware of the honor.
"It really didn't hit me at first," Rondo said. "I was just trying to lock in. I knew I was the last one that was going to be called so I went through the huddle. But after I came back, a couple guys told me, 'Congrats on being named captain.' I didn't have a lot of time to take it in. I just wanted to go out there and play to the best of my ability."
Making his 2013-14 season debut and appearing in his first game since Jan. 25, 2013, Rondo displayed the expected rust and some familiar tantalizing glimpses all while scoring eight points on 4-of-9 shooting with four assists, two rebounds, two steals, and a turnover in 19 minutes, 25 seconds of floor time during Boston's 107-104 loss to the Los Angeles Lakers at TD Garden.
Rondo couldn't rescue the Celtics as the Lakers made a furious late-game rally, hitting a string of three 3-pointers to erase an eight-point deficit and surge ahead with 69 seconds to play. Rondo's 3-pointer from the left wing with a chance to tie the score in the final moments clanged off the rim as the Lakers spoiled his return.
The team will wait to see how Rondo's right knee responds to Friday's activity, but Rondo said he was encouraged by his first trip back on the court.
"I felt pretty good," he said. "When I got back in the second quarter, I got pretty winded, but that was expected. Other than that, I didn't feel like I was limited to anything tonight. I missed my first two shots and got to the post, got comfortable, and went from there."
(
Read full story
)
PODCASTS
Bill Simmons, NBA
Play Podcast Grantland's Bill Simmons discusses the state of the Lakers, Phil Jackson's future, the perception of Rajon Rondo, Doc Rivers' impact on the Clippers and more.
John Farrell, Red Sox
Play Podcast Red Sox manager John Farrell talks about whether he expected his team to make such a turnaround in one season, his relationship with his players, fans' expectations for the squad and more.