BOSTON -- Poor Phil Pressey. The undrafted rookie is playing the best basketball of his brief NBA career and he's a very distant second when it comes to interest in Boston Celtics point guards.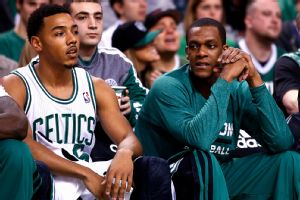 Jared Wickerham/Getty Images
Phil Pressey is making a case to be a real part of Boston's backcourt along with Rajon Rondo.While Rajon Rondo's ascension to captain and his return to game action dominated Friday's headlines, Pressey has calmly used an uptick in minutes in Boston's overhauled backcourt to showcase his talents to far less fanfare.
But consider this: Over his last 82 minutes of play, spanning 6-plus games, Pressey has dished out 25 assists and committed only one turnover. If Kelly Olynyk doesn't let a catchable entry pass slam off his chest in the paint during Monday's loss to the Houston Rockets, there's a chance that Pressey would be riding one of the more incredible turnover-less streaks, by a rookie or otherwise.
Drawing his first NBA start on Wednesday night against the Toronto Raptors, Pressey handed out 10 assists without a turnover over 26 minutes in an 88-83 triumph that snapped Boston's nine-game losing streak. Reverting to a reserve role with Rondo's return on Friday, Pressey still logged 22 minutes and dished out nine helpers with no turnovers in a 107-104 loss to the Lakers.
"You know, sometimes guys just thrive with that extra opportunity," said Celtics coach Brad Stevens. "He's taken advantage of it, and to his credit has really done that."
A week ago, Pressey's role with the team was incredibly murky. During a loss in Golden State, he logged his first DNP since the opening week of the season, squeezed out of a tightened rotation with the Celtics leaning on recently acquired Jerryd Bayless to help run the second-team offense.
With Rondo's impending return, it was fair to wonder if Pressey might be bound for the D-League for reps. But on Wednesday, the Celtics dealt Jordan Crawford -- the team's starting point guard in Rondo's absence -- to the Warriors as part of a three-team swap, a move that created a potential opening for Pressey.
As Rondo's minute restriction loosens, Pressey's time might diminish a bit. But he's taking advantage of his current opportunity and reminding everyone of his potential as a steady ball-handler at the back end of the roster.
"When you don't have somebody on your back, where you know [that if] you mess up you're going to come out, it makes you feel a lot more comfortable out there," said Pressey. "My teammates, they've really been believing in me, so that's helping me out as well."