Midseason check-in: All on board?
January, 20, 2014
Jan 20
9:30
PM ET
The Boston Celtics reached the midway point of the 2013-14 campaign with Friday's loss to the Los Angeles Lakers, scooping up Rajon Rondo while whizzing past the midseason checkpoint.
The trade deadline looms a month away and the Celtics have already swung two deals in two weeks with eyes toward the future. Celtics president of basketball operations Danny Ainge stressed that there's still plenty of work to do to navigate this transition period and Boston is likely to further tinker with its roster if the right deals are available.
But even beyond the Feb. 20 trade deadline, the final three months and final 40 games of the 2013-14 season will play a big role in determining how this team will look in the future. This is a chance for Ainge, his staff and coach Brad Stevens to determine which players currently on the roster have long-term futures here.
"I feel like we're figuring out who we want on the bus," Ainge said last week.
As this bus rolls through the midseason toll plaza, we offer our midpoint evaluations while trying to gauge where players are currently seated on this bumpy ride.
As always, a reminder that grades are offered based in large part based on expectations.
ON THE BUS
These players appear to be part of Boston's long-term future given their performance, age and contract status: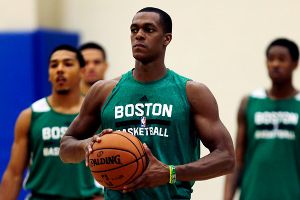 AP Photo/Charles KrupaDespite just recently returning to action, captain Rajon Rondo has done everything he can to help the Celtics so far this season.
•
Rajon Rondo
: Despite only recently returning to game action, Rondo had a phenomenal start to the season. He did his part in establishing an immediate relationship with Stevens, diligently navigated his rehab without rushing the process, showed his leadership by accompanying the team for nearly every game and practice, and found time to immerse himself in the community (reflected in winning the league's Community Assist award for December). Added all up, it was enough for the Celtics to bestow upon Rondo the crest of captain, an honor that suggests he's not just riding the bus, he just might be Stevens' co-pilot. Unless the wheels come off, it appears the Celtics are committed to Rondo as the centerpiece of this rebuild, which puts a long-term contract extension near the top of the priority list in the near future. [
First-half grade
: A]
(
Read full midseason report card
)
PODCASTS
Adam Schefter, NFL
Play Podcast ESPN NFL Insider Adam Schefter weighs in on the Panthers' WR situation, Julian Edelman's future with the Patriots, Vince Wilfork's decision to ask for his release and more.
Spanning the Globe: 3/13
Play Podcast "Spanning the Globe" features ESPN Boston's Mike Reiss, Yahoo! Sports' Eric Edholm and ESPN LA 710's Mark Willard.
John Farrell, Red Sox
Play Podcast Red Sox manager John Farrell talks about whether he expected his team to make such a turnaround in one season, his relationship with his players, fans' expectations for the squad and more.