Kevin Garnett and Paul Pierce are already bracing themselves for an emotional return to Boston on Sunday night.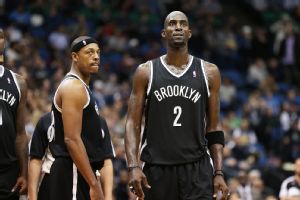 Jordan Johnson/NBAE/Getty Images
Paul Pierce and Kevin Garnett visit Boston for the first time on Sunday.The Brooklyn Nets won for the ninth time in 10 games on Friday with a 107-106 triumph over the Dallas Mavericks at the Barclays Center. But after the game, the focus swung almost immediately to how Pierce and Garnett will play their first game in Boston since the summer blockbuster that delivered them to New York.
"I just know that the emotions will probably be high, just because of the success that we had while we were in Boston," Garnett told reporters in Brooklyn following Friday's win. "We had some really good years there, some really promising years. I think it's going to be forever, we're embedded in it. ... I think anybody who's part of that run and part of that era will always be remembered. Bostonians, New Englanders, they understand that and they never forget their favorites. We was fortunate to be part of that whole transformation.
"Some things are forever, man," Garnett added. "I'm happy to say that I'm part of that era."
Garnett spent most of his seven-minute postgame interview reflecting on his six seasons in Boston, alternating between nostalgia and playfully curiosity in advance of Sunday's visit.
"It'll be good to be back in Boston," Garnett said. "I hear it's freezing as s---. No different from New York. East Coast is East Coast. But, for the most part, it should be fun to go back and see what happens."
Added Garnett: "It'll be what it is, man. I'm going to embrace it for whatever it is and I'm sure the emotions are going to be very high. And then I'll react accordingly. But we're there to win a game, and I hope this doesn't overshadow the game. It'll be good to see [former teammate Rajon] Rondo and some other personal friends that obviously don't play. Other than that, it's another game that I have to be prepared for."
Alas, it seems impossible that the Garnett/Pierce return won't overshadow the game itself, particularly given the way Brooklyn is playing lately compared to a Boston team that has lost 13 of its past 15 overall.
For his part, Pierce, who elected to skip a preseason game here in October in order to make this his one-time return to the Garden this season, had already begun making plans for Sunday's game.
"I talked to [Celtics travel and equipment manager John Connor] today and I told him I'll probably sit in the equipment room like I used to always do in my 15 years there, who knows," Pierce said. "It's going to be a little weird, though."
Pierce said it would be fun to see all the familiar faces, including season-ticket holders that watched him grow during his 15 years with the Celtics.
"It's going to be a lot of emotions," Pierce said. "You play your whole life there, you win a championship there, I mean, being the first time back. ... It's going to be special. I don't know how I'll react, what emotions are going to be going through my head."
Maybe because of Boston's recent struggles, Celtics players downplayed the impending return of Pierce and Garnett. Asked about Sunday's game, Rondo said simply, "It's another game. We need the win."
Pierce is glad to have Garnett alongside for the journey back.
"We shared so many memories, on and off the court -- shared our best memories in Boston," Pierce said. "We won a championship and, when you talk about the ride that we had together and the run, a lot of things go through your head, so it's fun to be able to share it with him."