WALTHAM, Mass. -- Maybe nobody on the Boston Celtics was more excited to see Kris Humphries find a more consistent role on the team last month than rookie Phil Pressey.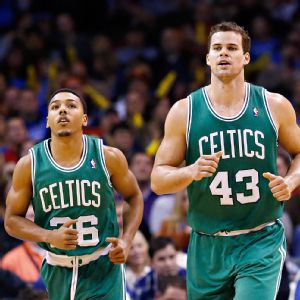 AP Photo/Sue Ogrocki
Phil Pressey says he'd never turn down Kris Humphries' invitation to run sprints.Back when Humphries had a less-defined role and playing time came in sporadic chunks, he'd often utilize post-practice situations to get the cardio work that evaded him during games. And Humphries, now in his 10th NBA season, would invariably recruit Pressey, an undrafted rookie, for rigorous sets of a dreaded sprinting drill.
Pressey is brutally honest when he notes now that he's no fan of those sprinting exercises. But he'll never say no to Humphries.
"I know it's only going to better me," said Pressey. "Just to see him trying to maintain his conditioning, continue to get shots up. That just lets you know you have to keep working."
Both Humphries and Pressey have seen their minutes escalate in an overhauled Celtics roster (one that could see more changes before the deadline later this month). Humphries elevated to a starting role for 10 games in January and remains one of the top bigs off the bench, while Pressey has settled in as a top reserve ball-handler who has made three spot starts as Rajon Rondo eases his way back into game action.
Even though an increased on-court workload has decreased the need for conditioning-heavy off-day drills, Humphries and Pressey are still routinely some of the final players off the court after practice.
Take Saturday as a prime example. The Celtics, with a matinee looming Sunday against the Orlando Magic and having gone hard on Friday, engaged in what amounted to a light walkthrough and skill work during a breezy Saturday session.
As most of the team's veterans dashed off the court after the session, Humphries, Pressey, and fellow rookie Kelly Olynyk corralled a couple assistants and went through a lengthy shooting drill. Not satisfied by that exercise, the trio stayed on the court for a friendly game of PIG that wrapped up approximately an hour after the team's practice had completed.
Watching the trio shoot as he met with the media, coach Brad Stevens gushed about Humphries' work ethic and how it has rubbed off on the younger players.
"It's really nice. We've said this about him all year -- he's a great teammate," said Stevens. "We can add a ton of adjectives to that. He's really just a great teammate. I think the young guys are really drawn to him because he goes in there and he works with them and he stays after with them and he spends time with them. I don't think there's any doubt that if you interviewed any of those guys, they'd say the exact same thing."