WALTHAM, Mass. -- The Boston Celtics were coming off a brilliant first quarter on Wednesday night in which the team generated 13 assists on 14 made field goals and put up 34 points against the Philadelphia 76ers. Rajon Rondo didn't take a shot in the frame, but he had four of those assists in seven minutes and was quarterbacking a gem.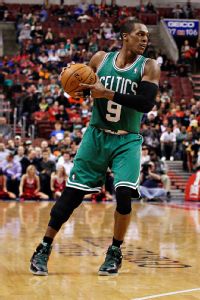 AP Photo/Chris Szagola
Rajon Rondo's calming effect late in games is starting to pay dividends for the Celtics.On the team's first possession of the second quarter, Rondo saw Gerald Wallace cutting back door and split four Philadelphia defenders with a bounce pass to the baseline. But Wallace botched the open layup and immediately knew he wouldn't hear the end of it.
"I mean, Rondo, he was fussing about that all night," Wallace said before practice Thursday.
Undeterred, Rondo had a season-high 11 assists as Boston finished with 27 assists (on 41 field goals), its fourth-highest assist total of the season. Rondo's return on Jan. 17 produced a season-high 34 helpers.
For a Boston offense that has plodded for much of the season, Rondo's return -- and his return to his old self in recent games -- has sparked an uptick in pace and a renewed focus on ball movement in generating easier opportunities. The result? Boston's first winning streak since mid-December.
When a reporter asked coach Brad Stevens Thursday about the importance of ball movement, the coach offered, "It's one of the key tenets of our chance of having success."
The most basic numbers shouldn't come as a real surprise. Boston has won 17 games this season, averaging 22.2 assists per contest, but that number drops to 18.8 helpers per game in the team's 33 losses. Boston is 1-17 in games with 17 or fewer assists.
And even with the qualifier that the past two opponents haven't exactly been the toughest teams in the league, you can't help but notice how much crisper Rondo has looked while directing the offense in those outings. There's a different confidence about this team when he's on the floor.
During Rondo's 59 minutes of court time over the past two contests, the Celtics had an offensive rating (points per 100 possessions) of 112.7 points and that number plummeted to 99.3 in the 37 minutes he was off the floor. Rondo's playmaking abilities are giving a jolt to a team that ranks 26th in the league in offensive rating (98.5) through 50 games.
Nowhere has Rondo's presence been more obvious than at the end of games. While the Celtics have struggled to hold on to leads, they were able to keep the 76ers at arm's length on Wednesday night. Clinging to a four-point lead with a minute to go, Rondo danced into traffic in the lane, drew a crowd and calmly delivered a little wraparound pass to Jared Sullinger for a three-point play that essentially sealed the win.
Stevens noted how Rondo was able to "probe the defense" before finding Sullinger. Even as the game speeds up with Rondo on the court, he slows it all down.