BOSTON -- There's a case to be made that Jared Sullinger was Boston's most consistent player over the first half of the 2013-14 season, deterred only briefly at times by some lingering ailments.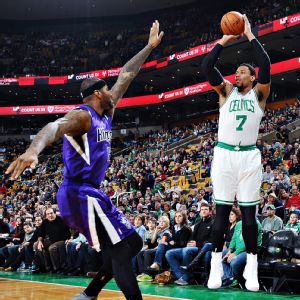 Brian Babineau/NBAE/Getty Images
Jared Sullinger sank 14 of 24 shots versus the Kings.And yet there was coach Brad Stevens last week imploring the 21-year-old Sullinger to play beyond his years and grasp the opportunity in front of him. All while Sullinger's father, Satch, a former coach, was scolding his son for his poor body language and attitude as the Celtics navigated a loss-filled month of January.
Sullinger responded with four consecutive double-doubles, each seemingly meatier than the next, culminating Friday night when he posted a career-high 31 points alongside 16 rebounds in Boston's 99-89 triumph over the Sacramento Kings at TD Garden.
Maybe now dad will ease up?
"Nope," said Sullinger. "Not with my father -- no praise that way."
Sullinger probably didn't want a batch of tough love, but it certainly hasn't hurt. Over Boston's current three-game winning streak, Sullinger is averaging 23.7 points on 60 percent shooting with 12.7 rebounds, 2 assists and 2 blocks over 35.7 minutes per game.
Sure, Boston has feasted on some of the league's weaker squads during this stretch, but Sullinger put up his gaudy numbers Friday while matched up with Sacramento's DeMarcus Cousins.
For the game, Cousins matched Sullinger's output identically -- 31 points, 16 rebounds -- but Sullinger dominated. He connected on 14 of 24 shots, earning just two of his points at the charity stripe.
As Kings coach Mike Malone noted after the game: "[Sullinger] outworked us. I told our guys in the huddle, 'This is not a game plan, this is not coverage, this is effort. I have no defensive game plan or adjustment we can make for rebounding the basketball, but it's just hard work.' ... Tip your hat to Jared Sullinger, he came out here and dominated us tonight."
Let's step back for a moment. Even coming off of back surgery, expectations were high for Sullinger given the encouraging glimpses from his shortened rookie campaign. But Sullinger is most certainly exceeding expectations at the moment, earning the 'dominant' label while facing one of the better young bigs in the league.
And yet his father and his coach will continue to demand more from Sullinger, if only because they know it will drive him.
After Friday's game, Stevens was asked what Sullinger's ceiling is.
"How high does he reach?" quipped Stevens.