With little more than a week until the trade deadline, rumor season is chugging along and will only pick up steam before the swap whistle sounds Feb. 20. Here are some thoughts and answers to common questions we hear this time of year.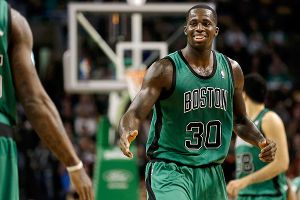 Winslow Townson/USA TODAY Sports
Brandon Bass is a player the Celtics might be willing to send to a contender for the right price.Let's start with our annual reminder to tread carefully with what bubbles up this far out. Very few deals gain traction this early. General managers (and their staffs) are feeling other teams out, making general inquires and simply getting their ducks in a row. The typical phone call this time of year lasts about as long as an appointment reminder from your dentist.
Things typically heat up a couple of days before the deadline and figure to shift into overdrive in the 24-hour span leading up to next Thursday's 3 p.m. ET deadline. Even if a team finds a deal it likes this early, it probably will spend the remaining time shopping around to ensure that it's the best it can find.
Now to the questions we've heard most often lately:
Will the Celtics make a trade?
An impossible question to answer because it's unclear what the team will be offered in return. Here's what we know: The Celtics are a team in transition that already has pulled off two deals with the goal of speeding up that rebuilding process. The team certainly wouldn't mind further unclogging its future payroll, adding to its draft-pick surplus or bringing in talent that can help get it back to contender status sooner than later. But it takes two to dance, and Boston must find a willing trade partner.
Do the Celtics need to make a trade before the deadline?
No, the Celtics won't make a move just to make a move. Given their transition status, they ought to bubble up in plenty of whispers before Feb. 20, but having already made those two moves last month and having perhaps a better chance at overhauling their roster this summer, the Celtics won't fret if the deadline passes without activity. If that happens, Boston could use its tiny chunk of available money and one remaining roster spot to add another future-minded body before the end of the regular season.
Which player is most likely to be traded from the Celtics?
The guy we often point to here is Brandon Bass. The 28-year-old forward quietly has had another excellent season for Boston, but he also makes an awful lot of sense for a contender. Bass is a versatile defender with a reasonable contract and a lunch-pail worker who won't disrupt the chemistry in the locker room on a winning team. Boston is overstocked at the 4, with Jared Sullinger the future at that position (assuming the team eventually adds a legit center next to him) and Kelly Olynyk and Kris Humphries deserving of more consistent minutes. Moving Bass would create playing time for rookie Olynyk to develop, while maybe also further trimming payroll next season.