We call it a midseason break, but All-Star Weekend is more like a brief pit stop before launching into the final of three laps in the NBA season.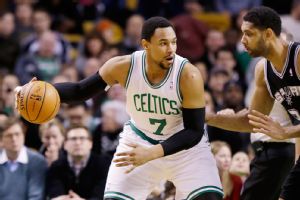 AP Photo/Stephan Savoia
Jared Sullinger is flashing the potential to develop into an All-Star player.With 54 games in the rearview mirror, here are five things we've learned about the Boston Celtics through the first two-thirds of the 2013-14 season, plus a quick-hit thought on every player on the roster:
They are who we thought they were
The Celtics arrive at the All-Star checkpoint with a 19-35 record, which puts them on pace for a 29-53 record overall. Back in ESPN's Summer Forecast, that's exactly the mark our panel of experts pegged the Celtics for. What we probably didn't expect was for the rest of the East to be quite as dismal and the Celtics to own only the sixth-worst record in basketball. That means Boston will seemingly be hard-pressed to get into the bottom three while currently owning a three-game lead over an Orlando team with the third-worst record in the NBA.
January wasn't as bad as it looked; February hasn't been as good as it appears
The Celtics went 2-15 in January, setting a new team record for most losses in a calendar month. What got lost in that sea of losses was that Boston was competitive in a lot of games, including a string of three single-digit losses between their two victories. A pair of trades overhauled the backcourt, and injuries left the entire rotation in flux, while a daunting schedule didn't aid matters either. Boston played better than its record indicates. The Celtics arrive at the All-Star break feeling better about themselves for having won four of six to start February, but those four wins came against the four worst teams in basketball. There are still plenty of strides to be made after the All-Star break (though the trade deadline could again shuffle the roster a bit).