The Boston Celtics will reconvene in Phoenix on Monday ready to navigate the final 28 games of the 2013-14 season. Like the first 54 games, the focus this season hasn't been on the win-loss record, but the progress a transitioning team has made while trying to put itself in position to be competitive again as soon as possible.
With that in mind, here are five things we'll have our eyes on over the final two months of the season:
THE BEST OF YOUTH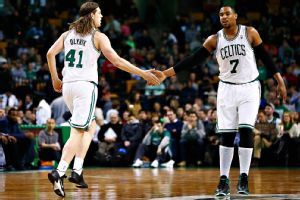 Jared Wickerham/Getty Images
Kelly Olynyk and Jared Sullinger are two of Boston's top young players.Maybe the most encouraging aspect of the Celtics' season so far has been the development of younger players, particularly those that could be building blocks for the team's future. Jared Sullinger has emerged as a consistent double-double threat, Avery Bradley has become a fearless shooter with a burgeoning mid-range game and Kelly Olynyk showed encouraging signs of progress with his first two NBA double-doubles right before the All-Star break. Boston's No. 1 goal over the final 28 games (and through the offseason) has to be to nurture its younger players, particularly the ones who could own key rotation roles next season.
Celtics coach Brad Stevens has strived to keep his younger players motivated. When one of them is performing well and he is asked about that player, Stevens often prefaces his praise by noting that the player can get even better. Just a few weeks back, Stevens sat down with Sullinger and challenged him to take his game to another level and not use his youth as a crutch to rest on what he has accomplished already.
By getting the most out of Boston's youngest players this season, it sets a heightened expectation level for the start of next season when, with the right moves, the Celtics could be right back in the competitive mix. The Celtics' youngest players cannot be complacent with the strides they've made, the team is forcing them to constantly increase their own ceiling.