How does it end? At some cruel snail's pace, reprieve upon reprieve until there are suddenly no reprieves left? Does it end by not ending at all? As the trade deadline fades in the rearview mirror, Rajon Rondo is still a Boston Celtic, a reality that's starting to feel permanently temporary. Last summer the Celtics jettisoned two Hall of Famers and a likely Hall of Fame coach in a span of days, assuring that they would be among the worst teams in the NBA in the 2013-14 season. All that seemed left was the team's most valuable and prickliest asset, an obscenely talented 27-year-old point guard nursing a torn ACL who appeared certain to be next out the door.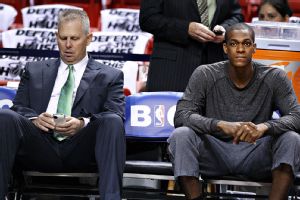 Jim Davis/Getty Images
It's hard to fill in the gap between Danny Ainge's plans and Rajon Rondo's future with the Celtics.Fast-forward to now, and the Celtics are indeed a bad team. They're a bad team that plays hard, they're a bad team that's well-coached, they're a bad team with some good players who are on the verge of being very good players. At the beginning they overachieved, lurching to a 12-14 record in an abysmal Eastern Conference by mid-December, while prompting genuine hope among fans (or, depending where you stood on the "rebuilding" question, genuine fear) that we might be looking at something like Phoenix Suns East.
We are not. The Celtics have since gone 7-22 and now fully resemble the collection of journeymen, works-in-progress and rejected trade-bait we always thought they were. And of course there's that point guard, still here, and still that point guard. Since returning to action Jan. 17, Rajon Rondo has been playing into form, averaging a Rondo-esque 15.2 points, 9.4 assists and 6.4 rebounds in seven games in February. He's back to his ball-handling wizardry and eye-popping assists, even though he's passing to Chris Johnson and Kelly Olynyk instead of Paul Pierce and Kevin Garnett, even though every day until today has brought whispers that it could be his last in green and white.
Now we know that day won't come for at least a little while longer, a bittersweet relief for Celtics fans who've now spent the better part of a year in a Stockholm Syndrome relationship with the team's president, Danny Ainge. The deal that sent Garnett and Pierce to the Nets for draft picks and salary detritus was shocking, and in Pierce's case, stomach-turning. But it made sense: There was no question that Pierce and KG were on the downside of their careers, and there was little question that Brooklyn dramatically overvalued them. It was a smart move by a front office whose ruthlessness had by now won almost unconditional benefit-of-the-doubt from its fan base (a rare achievement in Boston sports, and one that's currently enjoyed by all of the city's major pro teams).