WALTHAM, Mass. -- Boston Celtics guard Avery Bradley forgot how much he missed the lights.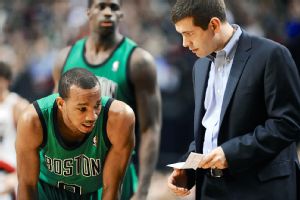 AP Photo/Greg Wahl-Stephens
Avery Bradley is eager to get back on the floor for Celtics coach Brad Stevens.Having spent much of February in the cramped trainer's room inside the team's locker room, Bradley basked in the warmth of the TD Garden lights when he stepped onto the court to get up shots before Friday's visit from the Brooklyn Nets.
After missing 16 of the team's last 19 games due to a lingering right ankle sprain, Bradley resumed basketball activities this week and is eyeing a return to game action on Friday night against the Phoenix Suns.
Given how the ankle injury has lingered -- Bradley returned after an initial five-game absence, only to sit out the past 10 straight when the ankle balked -- some have wondered if the team would consider shutting Bradley down for the season. With the team enduring a rebuilding year, that thought process wonders if it's worth jeopardizing his long-term health with little to play for beyond pride.
But both the Celtics and Bradley believe there is plenty to play for, including a chance to uncloud his future.
When healthy, the 23-year-old Bradley has put together a quality season, averaging career bests at 14.3 points and 3.9 rebounds over 30.6 minutes per game. He's shown increased confidence shooting the ball and thrived in the midrange, while also putting a heavier emphasis on crashing the glass from the guard position. His defensive talents are well-documented (even if they haven't been on display quite as much this season).
Had Bradley stayed healthy this year, he likely would have put himself in position for a healthy pay raise this offseason. After failing to hammer out an extension of his rookie pact in late October, the Celtics are expected to extend a $3.6 million qualifying offer this summer that will make Bradley a restricted free agent. As a young, defensive-minded guard with a blossoming offensive game, Bradley could draw outside interest and run up his price tag.
But you wonder if the recent absence could leave teams a bit leery. Which is why these final 17 games could be important for Bradley. While he stressed Saturday that he thinks he's "already proved [his value] throughout this year," finishing the season strong certainly wouldn't hurt his cause.
And the Celtics certainly wouldn't mind getting a longer look at the backcourt of Bradley and (a healthier) Rajon Rondo. The pair, potentially the team's backcourt of the future, has rarely been on the court together in recent seasons due to injuries.
For his part, Bradley just wants to get on the court.
"I'm just going to go out there and play hard," said Bradley. "It's the game I love to play, and I feel like, even if we didn't have a chance to make the playoffs, we should still go out there and prove to our fans and to ourselves that we're going to fight no matter what, even if we don't have a chance."
Bradley recalled how a lottery-bound team made it a goal to beat every playoff-bound team it encountered late in a recent season. Other Boston players have expressed a desire to play a spoiler-like role over the final month of the season, and that started with Friday's triumph over the Nets.
Having Bradley back on the floor could certainly aid Boston's compete level. Celtics coach Brad Stevens was asked what the team has missed without Bradley.
"I think that, obviously, he's a guy that can turn us up defensively," said Stevens. "I don't think we get into the ball quite as well without him. I think that's an obvious statement. And then his scoring, it's interesting, I go back and watch the Detroit game from two months ago and between Avery scoring, Courtney [Lee] scoring and Jordan [Crawford] scoring, we have a different team with regards to where our points are coming from, especially when Avery is not playing. That's three guys that we depended on heavily to score the basketball.
"I think we miss him from a scoring standpoint, I think we miss him from an ability to turn it up defensively standpoint. It's hard to quantify that. One of the things is, when he gets into the game and he gets the crowd behind you because of his energy and effort, does it actually account for more points than may it look like? I don't know; that's one of those immeasurables."
Even after missing extended time, Bradley has still accounted for 11.1 percent of Boston's total offensive plays this season, according to Synergy Sports data. That's the third-highest total on the team behind only Jeff Green and Jared Sullinger. While Bradley's reputation remains on the defensive end, his offensive emergence this season is something the team clearly misses.
Bradley spent time before Saturday's walk-through getting up shots with assistant coach/shot doctor Ron Adams and looked crisp for a player sidelined for as long as he has been. Bradley raved again about how Adams has helped him -- and others, such as Rondo -- become a more consistent shooter.
"Just the repetition," said Bradley. "[Adams is] making sure -- even the days we come in and we might be a little tired, he'll come and get you. Like, he'll honestly come and get you to get some shots up. He gives you that confidence. You know, that helps out a lot. It's amazing seeing Rondo out there. He's just so confident when he's shooting the ball.
Rondo noted last week how he told Adams he wanted to shoot like Bradley when he returned from ACL surgery. Bradley gushed about what Adams has meant to him.
"Since summertime, [Adams] kind of knew my shot because we were in here working together. Same with Rondo," said Bradley. "So he saw things that we could correct, and he made a routine for every single one of us, including [in-season acquisition] Jerryd Bayless. So those are things that in our routine we will always know, because he would tell us all the time, like, 'Get your hand up. Get the ball up. Follow through.' So when we're doing that workout every single day, we're kind of telling ourselves that going through the workout."
Bradley understands the Celtics have been cautious with his return, but he's eager to apply all those shooting lessons again. He wants to stay under those bright lights on the Garden floor.