BOSTON -- Shavlik Randolph said he understands the reasons, but was disappointed and shocked when the Boston Celtics elected to release him in August before his contract became guaranteed for the 2013-14 season.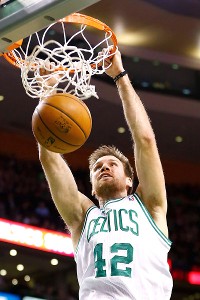 Jared Wickerham/Getty Images
Shavlik Randolph had hoped to stay with the Celtics this season.Randolph, imported last season after a stint in China, made a favorable late-season impression in Boston and spent the summer preparing to be a veteran presence on a transitioning team. But with the Celtics facing a roster and salary-cap crunch, the team released him on Aug. 1 before his $1.1 million contract became guaranteed.
Randolph started the season back in China, where an early season shoulder injury turned his latest overseas trek into a nightmarish adventure while he wondered what could have been in Boston. Earlier this month, former Celtics assistant general manager Ryan McDonough -- now at the helm for the Phoenix Suns -- gave Randolph another NBA opportunity by signing him for the rest of the season.
"I was really disappointed because I was expecting to be back here," admitted Randolph, who was a healthy DNP during the Suns' 87-80 triumph on Friday night at TD Garden. "I was going through my summer, my offseason, preparing like I was going to be back here and what my role was going to be on this team. From all the communication we had, I think both sides -- I think they thought I was going to be back here. But I know this is a business, things happened and didn't happen the way that they expected them to. And when it came time for them to pick up my option or let it go, I think some things happened, didn't transpire the way they thought and they couldn't, at that time, commit to my contract. It was pretty disappointing and shocking, but you have to move on, gotta keep doing what you got to do."
After being out of the league for most of the previous six seasons, Randolph averaged 4.2 points and 4.4 rebounds over 12.4 minutes in 16 appearances for Boston. He grabbed 26.3 percent of all available defensive rebounds during his time on the floor and 22.4 percent of all caroms overall (which were the best numbers on the team; albeit in a small sample size of 198 minutes).
Randolph said he talked with Celtics president of basketball operations Danny Ainge and he hinted the team had hoped to make additional offseason moves that could have freed up the necessary room to carry Randolph this season. It never happened and, with a lingering logjam at the power forward spot and over the luxury-tax line at that point, the Celtics couldn't take the risk of carrying Randolph.
"I spoke to Danny when it happened and he basically just said, 'There were some things that we thought that we were going to be able to do by this point, and we're still over the cap,'" said Randolph. "Committing to [Randolph] at this point, they would have had to make some trades that they hadn't made at that point, that they just couldn't take the gamble. If I had been like an All-Star-caliber player, then it probably would have been worth the gamble. At that point, they just couldn't commit and, listen, this is a business and I completely understand."
Randolph was intrigued by the opportunity that could have been with a transitioning team like Boston.
"I thought it was going to be good for me because obviously last season I was sitting there competing -- I was backing up Kevin Garnett; I'm not going to get minutes over Kevin Garnett," said Randolph. "I'm going to play when he can't play or when he's tired. I thought it would give me a better opportunity [this season], but ultimately it led to the numbers problem that ended up with me not being able to come back."
Unfortunately for Randolph, it was just the start of his bad luck.
Randolph eventually resigned to re-sign with his former Chinese squad, the Foshan Long Lions, and averaged 22.3 and 12.3 rebounds in six appearances before suffering a strained right shoulder. Randolph said the team tried to rush him back given his lucrative contract, but he wasn't ready and it became a matter of contention. As Randolph joked, "Unless you have a bone poking through your skin, I think they expect you to play."
He was supposed to miss only 2-3 weeks, but the injury lingered and the team eventually signed two other players to fill his minutes, but that left Randolph unavailable until the playoffs, but the Lions struggled -- losing 13 of their final 16 games -- and did not qualify for the postseason.
When it became clear he would not play again for them this season, Randolph said the team banned him from practices and games hoping that he'd break his contract to return home. He stuck it out, but is still trying to get his salary from the team.
Even still, Randolph won't close the door on a trip back to China next season -- just likely with another team. Of course, his preference is to stick on an NBA roster. Just as he had hoped this past summer.