The Boston Celtics will formally ink Chris Babb to a multiyear contract on Friday and, in doing so, will make him an asset to the team beyond the end of this season as he joins a growing collection of nonguaranteed future deals.
Why do the Celtics do these long-term pacts with young, end-of-the bench talent? The primary desire is always to develop that player and lock them in at a bargain salary for future seasons. But even if that player doesn't latch on long-term, a nonguaranteed contract becomes a trade asset to dangle for teams desiring to shed salary.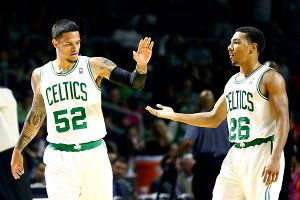 Mark L. Baer/USA TODAY Sports
Chris Babb and Phil Pressey own two of Boston's nonguaranteed contracts this summer.This summer, the Celtics will have four deals that will be nonguaranteed for the 2014-15 season at their disposal in Babb ($816,482), Chris Johnson ($915,243), Phil Pressey ($816,482) and Keith Bogans ($5.3 million). Obviously, it's Bogans' deal that holds the most value as Boston can bring back an established talent in exchange for the cap relief that another team would stand to gain by releasing him. Despite the low values for the other contracts, they can still be quite handy in making salaries work in deals, as we've seen in the past. A couple of examples:
• The Celtics signed veteran big man Sean Williams late in the 2011-12 season and the deal included a nonguaranteed second season for a little less than $1 million. Williams appeared in only six total games for Boston, but the team bundled both his contract and the nonguaranteed pact of second-round draft pick E'Twaun Moore (along with JaJuan Johnson, Sasha Pavlovic, and some second-round draft picks) and facilitated a three-team trade that following summer that landed Courtney Lee on a four-year contract. Lee didn't exactly live up to expectations, but Boston essentially created a second midlevel exception that summer by utilizing bodies that were not going to make next year's roster.
• Boston signed D.J. White after a stint in China last season. White appeared in 12 games for Boston, but didn't have a future here. Boston utilized his contract to make salaries match up in the summer blockbuster with the Brooklyn Nets. Having White's money to tack onto the deal made it possible to maximize the return (including a $10.3 million trade exception).
Sometimes nonguaranteed deals don't get traded, but can still help roster issues. Facing a roster and salary cap crunch this past summer, the Celtics waived Shavlik Randolph before the Aug. 1 trigger date to guarantee his second season, a move that helped position the team to stay below the luxury tax line this season.
Pressey, an undrafted rookie who earned his roster spot at summer league, has been a solid reserve ball-handler and he seems the most unlikely of the bunch to have to sweat his future this summer (his contract becomes guaranteed on July 15). For Johnson and Babb, their stays in Boston are more likely to hinge on how crowded their positions get this summer (or if Boston needs salary filler to make an offseason swap). Otherwise, they'll be back for training camp with a chance to earn their roster spots again.
The bottom line is that long-term, nonguaranteed deals have benefits to both sides, but especially the organization given the flexibility it can provide.