It's early February, a couple weeks before the NBA trade deadline, and Boston Celtics president of basketball operations Danny Ainge has popped into a popular burrito joint near the team's practice facility in Waltham to grab lunch before heading over to Boston College to watch Duke freshman Jabari Parker.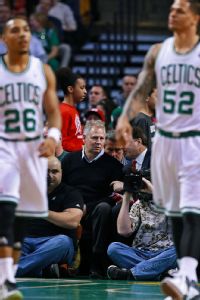 Jim Davis/The Boston Globe/Getty Images
Danny Ainge watches the Celtics lose their season finale Wednesday.As Ainge navigates the cafeteria-like assembly line, workers unabashedly offer trade advice while filling up his rice bowl. One employee seems particularly concerned about a report that the Celtics are talking to the Sacramento Kings about a potential Rajon Rondo deal and wants to see if there's any truth to it. Ainge just smiles and asks for both cheese and the employee's opinion on the rumored deal.
Ainge, having already made two trades a month earlier, is at ease with the approaching deadline and correctly predicts his team's inactivity at the February swap buzzer. Ainge seems more focused on the draft and the offseason that lies ahead, when he knows the real heavy lifting will be done.
Even still, he's reflecting on his trade history -- deals that went through and deals that didn't; deals that were real and deals that were media creations -- and an inquisitor wants to know if he's ever gotten cold feet about a potential franchise-altering swap.
"It's just basketball," Ainge said coolly as that familiar smile reappeared.
Two months later, as his team prepped for its season finale against the Washington Wizards, Ainge reaffirmed what he did that February day: The 2013-14 season hasn't been easy to endure, but he plucked positives from individual player development and always kept his focus on what the team was building toward in the future.
No matter how much Ainge, first-year coach Brad Stevens and the team's players braced themselves for the potential of losing games, it was never easy to endure. But the final buzzer of Wednesday's 57th loss essentially closed the book on the 2013-14 campaign. The Celtics bid good riddance and immediately turned their attention to a 2014-15 season and the unbridled optimism it provides.
Armed with a treasure trove of assets, Ainge enters a pivotal time in his team's future. With the right moves, and some friendly bounces from the pingpong balls, his team could launch right back into contender status. Ainge is brutally honest when he says he doesn't know if there will be the much-ballyhooed "fireworks" that has become the buzzword for the approaching summer, but he's hopeful.
He's far more certain of one thing, saying, "I'll work my tail off to try to duplicate what we've done in the past."