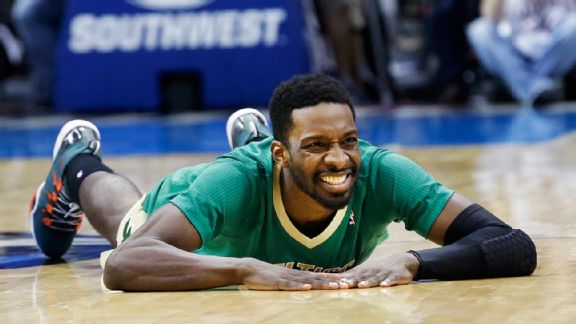 AP Photo/LM Otero
Jeff Green didn't miss a game for the second straight season.With the Boston Celtics' 2013-14 campaign in the rearview mirror, we've busted out our red pens and assigned grades to each player based on his individual performances this season. Our annual reminder that players are graded based on expectations versus production. This is the first in a series of end-of-the-season report cards:
Player: Jeff Green
2013-14 base stats: 16.9 PPG, 4.6 RPG, 1.7 APG, 41.2FG%, 34.1 3PT%
2013-14 advanced stats: 0.928 Off ppp (59th percentile); 0.851 Def ppp (60th)
2013-14 salary: $8.7 million
Season in a paragraph: Green entered the season having played some of his best basketball over the final two months of the 2012-13 campaign, and coupled with the departure of Paul Pierce and Kevin Garnett, and the rehab of Rajon Rondo, Green was fitted for a monster bull's-eye, one that he eagerly wore in hopes of establishing himself as a go-to presence. It didn't happen and even Green admitted by season's end that he couldn't be the focal point. He averaged a career-best 16.9 points per game, but his shooting percentages dived. Chalk some of that up to offensive experimentation, but Green struggled with consistency. The discouraging part was that his total rebound percentage (7.6) was a career low on a team devoid of a pure center and he still averaged more turnovers per game (2) than assists (1.7). If Green is to be a complementary player, he needs to be more of a presence in areas other than scoring.
GM's Take: "I think Jeff had a good year and Jeff has been consistently a very good 3-point shooter and very good in transition offense throughout his whole career and I think that he got even better at that this year and he got more versatile," said Celtics president of basketball operations Danny Ainge. "The fact that he wasn't more of a more below-the-crease or corner 3-point shooter, he shot the ball from all over the 3-point line, he shot the 3-point shot off the dribble, things that we wanted and we encouraged him to do to expand his game. He became more a focal point of the offense and he had his ups and downs with that, but I think his game is complete and I think that Jeff is improving as a player. I think he still has a lot of growth still left in his game and I think he's going to have a better year next year than he had this year."
Season highlight: Green provided maybe Boston's most endearing moment of the season with his buzzer-beating 3-pointer over LeBron James as the Celtics stunned the host Miami Heat 111-110 on Nov. 9. Green finished with 24 points on 8-of-16 shooting with five triples, including the winner off a pretty cross-court inbounds feed from Gerald Wallace. That hoop helped Boston post a season-high four-game win streak.
Season lowlight: Coming off a quiet preseason, Green declared, "I have to take on the challenge of being that guy. Of course I'll have my ups and downs, but I'll have more ups than downs. I can guarantee you that." There's a metric called Game Score invented by John Hollinger that mashes up individual aspects of a player's box score and delivers a numeric representation of his performance. Considering that a score of 10 is defined as an average outing, Green had 40 games of 10.0 or higher and 42 games below, according to Basketball Reference. It only hammers home the need for Green to do more to impact the game beyond scoring.
Final grade: C-
Teacher's notes: We can hear some of Green's harshest critics scoffing from the other side of the interwebs. Some voters are going to crush Green here and we'll be surprised if he ends up with a passing mark in the fan vote. And our inclination was to do the same, but only because Green is clearly capable of more. We're willing to concede that expectations might have been a bit too high overall, but we'll also stress that we're not certain that Green made as much progress as Ainge seems to suggest (though, hey, what rebuilding GM is going to say otherwise?). With a healthy Rondo and some other talent alongside him, Green has potential to be an excellent complementary player. You can tell Brad Stevens yearns to get the most out of him. Right now, the Celtics are not getting the most out of him on a consistent enough basis.
What's next? Green has two more seasons remaining on a deal that will pay him $9.2 million next season. Even with the cap set to rise generously, that's still a bit on the high side for the production the team is receiving. Drafting at his position, or adding a starter-caliber swingman, could make Boston think harder about any outside interest Green receives.
Honor roll: Click HERE to read past report cards.
Don't agree with teacher? Just want to sound off on Jeff Green's 2013-14 season? Leave your thoughts in the comments section.