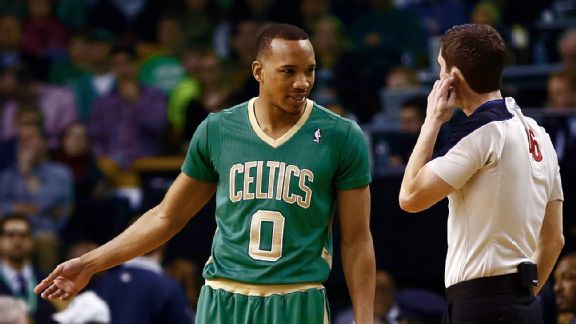 Mark L. Baer/USA TODAY Sports
Celtics guard Avery Bradley battled the injury bug late in the season.With the Boston Celtics' 2013-14 campaign in the rearview mirror, we've busted out our red pens and assigned grades to each player based on their individual performances this season. Our annual reminder that players are graded based on expectations versus personal performance. This is the second in a series of end-of-the-season report cards:
Player: Avery Bradley
2013-14 base stats: 14.9 ppg, 3.8 rpg, 1.4 apg, 43.8 FG%, 39.5 3PT%
2013-14 advanced stats: 0.92 Off ppp (55th percentile); 0.883 Def ppp (43rd)
2013-14 salary: $2.5 million
Season in a paragraph: Bradley made tremendous strides to restore his offensive game, embracing the "shooting" part of his positional title while putting up a career-high 13.8 shots per game. His offensive percentages rebounded to the level displayed in 2011-12 before his shoulder injuries and Bradley made a strong case to be Rajon Rondo's long-term backcourt mate. Ankle woes derailed Bradley late in the season, but he returned to play in five games in April that were awfully encouraging as he averaged 22.4 points per game on 47.1 percent shooting overall, including a ridiculous 52.9 percent beyond the 3-point arc.
GM's Take: "Avery had a good season," said Celtics president of basketball operations Danny Ainge. "I've seen improvement in Avery this year. The biggest issue with Avery has just been health. He plays hard and he's had some injuries, but none of them are injuries that should prevent him from being a great player."
Season highlight: Late in the season, beset by ankle woes, many wondered if Bradley should simply be shutdown to prevent further aggravation. Coach Brad Stevens insisted there was value in finishing strong and Bradley proved his point with five excellent games to close out the season. Maybe no outing was more encouraging than the team's win in Cleveland where Bradley put up 25 points behind five 3-pointers while also grabbing eight rebounds. Bradley enters the summer with some momentum to build on thanks to that late-season reminder of his offensive talents.
Season lowlight: As Ainge noted, the only concern with Bradley is health. He missed the first 30 games of the 2012-13 season while rehabbing from double shoulder surgery, then missed 22 of the final 39 games due to his injuries this season. Bradley admits that he plays so hard that injuries are sometimes unavoidable. Ainge has reminded us that sometimes the best ability is availability. Bradley also lagged a bit on the defensive end, reflected in not receiving a single vote for Defensive Player of the Year (this after landing two first-place votes while finishing 12th overall in the balloting last season).
Final grade: B
Teacher's notes: Ultimately Bradley's offensive resurgence made up for a bit of his defensive decline, some of which is most certainly related to the team's rebuilding pains. The challenge moving forward for Bradley is to maintain that offensive output without letting it come at the expense of his defense, especially considering Stevens' desire to inject Boston with a Defensive DNA and make that the backbone of the team. Bradley must consistently impact the game defensively from the perimeter and help Boston's backcourt diminish some of the difficulties in staying in front of ball-handlers this season (and adding pressure to a now KG-less backline). Here's what we loved: Bradley grabbed 10.9 percent of available defensive rebounds this season, well above his average of 6.5 percent from the past two seasons. He drove down his turnover ratio despite having the ball in his hands more frequently (though we'd still like to see his assist numbers climb and he needs to eliminate bad-pass turnovers).
What's next?: Bradley will become a restricted free agent when the Celtics formally extend a $3.6 million qualifying offer before the summer. He's likely to command outside interest, especially with more money expected to be injected into the salary cap, but Ainge has stressed he sees a future here for Bradley and the guess here has long been that they'll find a reasonable number for both sides to bring him back (assuming no competitor puts in a prohibitive bid for his services).
Honor roll: Click HERE to read past report cards.
Don't agree with teacher? Just want to sound off on Bradley's 2013-14 season? Leave your thoughts in the comments section.