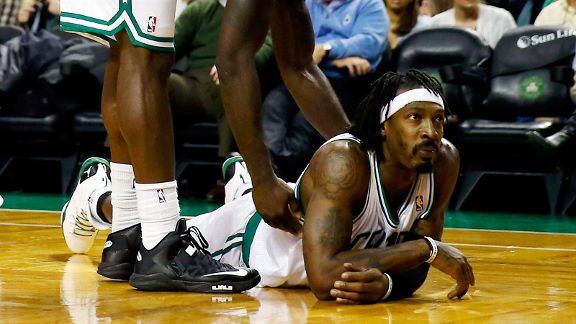 Greg M. Cooper/USA TODAY Sports
Gerald Wallace's 2013-14 season got cut short due to knee surgery.With the Boston Celtics' 2013-14 campaign in the rearview mirror, we've busted out our red pens and assigned grades to each player based on their individual performances this season. Our annual reminder that players are graded based on expectations versus personal performance. This is the fifth in a series of end-of-the-season report cards:
Player: Gerald Wallace
2013-14 base stats: 5.1 ppg, 3.7 rpg, 2.5 apg, 1.3 spg, 50.4 FG%
2013-14 advanced stats: 0.795 Off ppp (20th percentile); 0.912 Def ppp (31st)
2013-14 salary: $10.1 million
Season in a paragraph: Wallace, dealt to Boston in last summer's blockbuster, spent the offseason out of touch in his native Alabama and, upon arriving just before the start of training camp, admitted he was a bit sore about being traded for the third time in 30 months. He ended up enjoying his time in Boston far more than he probably imagined, sticking with the team through the end of the season despite undergoing season-ending knee and ankle surgery in early March. Wallace embraced the role of unfiltered veteran, slamming the team's effort at times early in the season, then easing up on the tough love as Boston endured the struggles of a rebuilding year. On the court, Wallace essentially deferred on offense, but still took on the challenge of guarding opposing teams' top wing scorers.
Season highlight: What most will remember about Wallace's 2013-14 season is his unvarnished opinions on Boston's play, including after a lopsided loss in Houston where the league fined him $10,000 for offering: "I don't know what the f--- that was, to be honest." Wallace really tore into the team for lackluster efforts at times. That said, he should also be remembered for providing one of the on-court highlights with his perfect cross-court inbounds pass that set up Jeff Green for a game-winning 3-pointer in Miami in November.
Season lowlight: Wallace tried desperately to stay on the floor after the All-Star break, slathering his ailing knee in Flexall 454 in hopes of simply easing the pain enough to get in another game. During a scheduled MRI to check the status of bone spurs in his ankles in early March, the team discovered Wallace had a torn meniscus that ended his season after 58 appearances.
Final grade: C+
Teacher's notes: If you were expecting the high-flying 2010 All-Star Wallace, then you were greatly disappointed. This 31-year-old Wallace, with 13 years of NBA mileage on his tires, was one of the league's most inefficient players at both ends of the floor, particularly on offense where he took shots only when no other option existed. That said, Wallace seemed to settle into his role midway through the season and helped fill the starting shooting guard role when the injury bug bit Avery Bradley. It's interesting to us that Wallace finished the season ranked third on the Celtics in WAR (wins above replacement), one of ESPN's new advanced metrics to measure a player's impact. Wallace quietly did the little things on the court and is an excellent veteran presence if you can look past the price tag (which isn't easy to do with his current pact).
What's next?: Wallace still has two years and $20.2 million remaining on his contract. Unless the Celtics are willing to part with future assets, it seems unlikely anyone else would be willing to take on that deal next season. Wallace expressed hope that repairing his knee and ankle will help ease the pain he played through this past season and allow him to provide more on the court. What the Celtics really need is for him to continue to push the youngsters in that veteran role, while providing an experienced presence off the bench.
Honor roll: Click HERE to read past report cards.
Don't agree with teacher? Just want to sound off on Wallace's 2013-14 season? Leave your thoughts in the comments section.