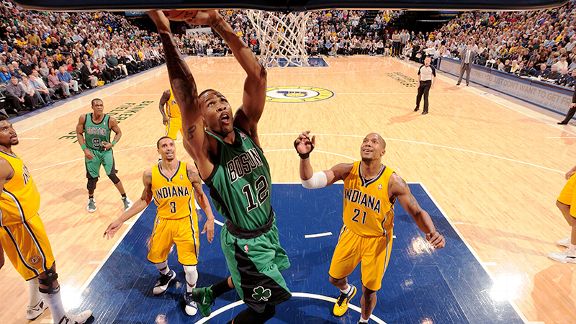 Ron Hoskins/NBAE/Getty Images
Chris Johnson made the most of his D-League call-up in Boston.With the Boston Celtics' 2013-14 campaign in the rearview mirror, we've busted out our red pens and assigned grades to each player based on their individual performances this season. Our annual reminder that players are graded based on expectations versus personal performance. This is the ninth in a series of end-of-the-season report cards:
Player: Chris Johnson
2013-14 base stats: 6.3 ppg, 2.4 rpg, 0.7 spg, 39.7 FG%, 33.9 3PT%
2013-14 advanced stats: 0.98 Off ppp (76th percentile); 0.896 Def ppp (38th)
2013-14 salary: $413,000
Season in a paragraph: When it was noted that the Celtics were close to signing Johnson to a 10-day deal in mid-January, it had to be clarified that it was the second-year swingman out of Dayton, and not the big man of the same name that had a Boston cameo a few years back. That tells you where this Johnson was on the NBA radar. But there was no such confusion by season's end. Johnson carved out a steady role for himself in Boston, appearing in 40 games and averaging 19.7 minutes per contest. Johnson shot 45 percent beyond the 3-point arc over his first 12 games before cooling a bit after the All-Star game. He was still one of the team's most efficient offensive weapons given his 3-point stroke. But what stood out above all was simply Johnson's infectious energy that rubbed off on his teammates whenever he was on the court and that's reflected in his plus-12 in plus/minus -- the only player on the final roster that landed in the positive (not too bad considering the team as a whole was minus-366 for the season).
Season highlight: Our lasting memory will be of Johnson knocking over teammate Rajon Rondo in pursuit of a rebound while helping spark a Boston rally in Indiana in mid-March. Johnson scored a season-high 14 points that night on 6-of-8 shooting with three rebounds and two steals over 28 minutes.
Season lowlight: Johnson slumped a bit in April. Despite getting a healthy chunk of minutes (20.1 per game over the final eight contests), his shooting percentages dipped (34 percent overall; 25.8 percent beyond the 3-point arc). Maybe he simply hit a rookie wall, but Johnson simply failed to impact the game in quite the same way he did over his first 32 games here.
Final grade: B-
Teacher's notes: Like with Rondo earlier this week, we're conflicted giving Johnson a B- mark. What were reasonable expectations for him upon signing a 10-day deal in mid-January? If we're being honest, just earning a second 10-day pact was impressive (fellow 10-day call-up Vander Blue didn't survive beyond the first 10-day contract) and for Johnson to ink a four-year deal and carve out a 20-minute-per-night role ought to make him an A+++ based on expectations. Johnson proved he belongs and we attempted to grade him like a reserve playing consistent minutes. His final grade reflects a bit of regression late in the season, though he simply might have run low on gas. We loved his energy and how he forced a team with little to play for to keep its foot on the gas. He needs to hone his defense (on the positive side, his struggles were not for a lack of tenacity), but if Johnson can continue to consistently knock down 3-point shots, he's going to fight to stay on an NBA roster.
What's next?: The Celtics have Johnson locked for three more seasons on nonguaranteed money, which gives the team the option of keeping him for cheap and developing his game, or utilizing him as trade fodder if they don't see a future for him as the roster takes shape. Like those on Boston's roster fringe, the team's offseason activity at his position should dictate his future here.
Honor roll: Click HERE to read past report cards.
Don't agree with teacher? Just want to sound off on Johnson's 2013-14 season? Leave your thoughts in the comments section.