The Boston Celtics have hired former Golden State Warriors assistant Darren Erman as director of NBA scouting, president of basketball operations Danny Ainge told Yahoo! Sports.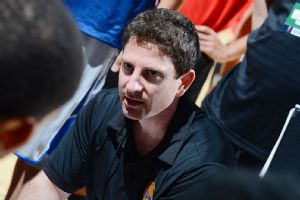 Garrett W. Ellwood/NBAE/Getty Images
The Celtics hired former Warriors assistant Darren Erman as their director of NBA scouting.Erman, who was fired by the Warriors earlier this month for a violation of company policy, worked as a Celtics' associate coach for parts of four seasons prior to joining Mark Jackson's coaching staff in Oakland.
"Darren worked with us for four years and he was one of the hardest working, most competent and intelligent members of our organization," Ainge told Yahoo. "We welcome him back."
Sources told ESPN's Chris Broussard that Erman's violation was secretly recording conversations between the team's coaches and players.
Erman, who was Jackson's second assistant, would record coaches' meetings, meetings between coaches and players and informal discussions among coaches that took place in the team's coaches room -- all without the participants' knowledge, sources told Broussard.
Erman is a graduate and former student coach at Emory University, and his resume includes stops at St. Anthony High School in New Jersey (2003-05) and Brandeis University (2005-07), near the Celtics' practice facility in Waltham, Mass.
---
Grantland's Zach Lowe offers context on Erman's situation in Golden State ...
The Warriors in the last six weeks demoted one assistant and fired another, and ESPN.com's Chris Broussard today reported that the team fired Darren Erman after learning Erman had recorded at least one coaches' meeting. Multiple league sources confirmed the gist of Broussard's report, and that Erman was concerned Mark Jackson and other coaches loyal to Jackson were insulting Erman to other players behind Erman's back.
The team had no choice but to fire Erman. However, the front office is fond of Erman and was upset at having to let him go, according to multiple sources familiar with the matter. The Erman firing and demotion of Brian Scalabrine have raised tensions throughout the Warriors' organization.
Jackson made a show of firing Scalabrine in front of players and other coaches, but he had no real grounds, and the front office made Jackson find a compromise, per a source familiar with the matter: demoting Scalabrine to the D-League. In addition, Jackson has asked that Jerry West, a high-level adviser in Golden State, not attend most practices and team activities, sources say.
The tension with Erman got weird. Midseason, the team moved Erman's parking spot to a less convenient place, likely at the behest of Jackson or one of Jackson's allies on the staff, per multiple sources familiar with the matter. They began changing his duties in strange ways.