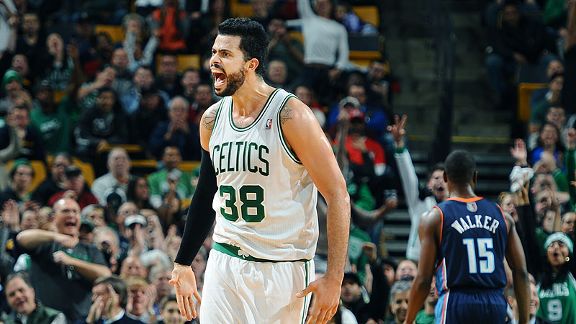 Brian Babineau/NBAE/Getty Images
Vitor Faverani started fast but hit speed bumps in his rookie campaign.With the Boston Celtics' 2013-14 campaign in the rearview mirror, we've busted out our red pens and assigned grades to each player based on their individual performances this season. Our annual reminder that players are graded based on expectations versus personal performance. This is the 12th in a series of end-of-the-season report cards:
Player: Vitor Faverani
2013-14 base stats: 4.4 ppg, 3.5 rpg, 0.7 bpg, 43.5 FG%
2013-14 advanced stats: 0.80 Off ppp (20th percentile); 0.822 Def ppp (73rd)
2013-14 salary: $2 million
Season in a paragraph: With the Celtics thin on pure size, the 6-foot-11 Faverani opened the season as the team's starting center and, in Boston's home-opener against the Milwaukee Bucks, he put up 12 points, 18 rebounds, and 6 blocks to create a feverish buzz about the 25-year-old Brazilian rookie import (via Spain). Alas, his play slipped a bit, his playing time eroded while he adapted to the NBA came, and Faverani soon found himself ping-ponging between Maine to get additional reps with the Red Claws of the D-League. The man nicknamed El Hombre Indestructible proved destructible as a tear in his meniscus suffered while on assignment with Maine in late January forced him to undergo season-ending surgery after only 37 appearances with Boston.
Season highlight: It got no better than the home-opener (though he had a memorable poster dunk in Maine) Not only did Faverani dominate on the glass and swat six shots, but advanced defensive numbers showed he allowed only five points total on 15 possessions defended and opponents were a mere 2-of-11 shooting (18.2 percent) against him.
Season lowlight: The progress of Boston's other rookies make it a shame we didn't get to see more of Faverani. Once Boston's fate was sealed this season, it might have opened more doors to expand Faverani's playing time and give us a longer look at what he could do. Boston clearly needed size this season and Faverani's early season glimpses suggest he can help from the center spot. What was most surprising this season was that his defensive numbers were far better than his offense, which was the opposite of how he was advertised when the Celtics signed him last summer (but there's no denying that the strides he needed to make defensively where part of the reason his playing time eroded early).
Final grade: C
Teacher's notes: We're eager to see more of Faverani. While the knee injury spoiled a chance to get him more first-year playing time, he should hit the ground running in training camp after having had a full season stateside to get acclimated. Even the brief glimpse can help the coaching staff get him pointed in the right directions.
What's next?: Faverani will likely use the summer to rehab and get himself back in game shape for camp in October. The Celtics have have him under contract for at least two more seasons at reasonable money ($2.1 million next season). The Celtics clearly needed size and rim protection this season and Faverani can aid that if he gets healthy and continues his development.
Honor roll: Click HERE to read past report cards.
Don't agree with teacher? Just want to sound off on Faverani's 2013-14 season? Leave your thoughts in the comments section.