CHICAGO -- The Boston Celtics' brain trust spent Thursday observing potential future additions at the NBA's draft combine in Chicago, but chatter about the team often turned to its past given the recent playoff ouster of the Brooklyn Nets and old friends Kevin Garnett and Paul Pierce.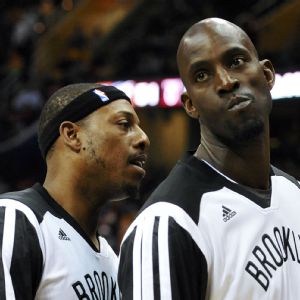 David Richard/USA TODAY Sports
What does the future hold for Paul Pierce and Kevin Garnett after Brooklyn's season ended Wednesday?Is this it for Garnett? What does the future hold for Pierce? Just as it was for Celtics for much of the 2013-14 season, Garnett and Pierce remain close at mind as the Green navigate a rebuilding process aimed at restoring the contender status that existed throughout the Big Three era.
Celtics fans are well versed in the annual KG speculation. We should know how it goes by now and Garnett will silently retreat to Malibu and ponder his future after 19 years in the league. Even with $315 million in career earnings, the soon-to-be 38-year-old Garnett has 12 million reasons to return to the court despite his struggles this past season.
Pierce's future is a bit more intriguing, particularly as he prepares to become an unrestricted free agent. Speculation is already running rampant:
Though Pierce, a free agent to be, walked through the Nets' practice gym on the team's breakup day without speaking to reporters, it was impossible to miss that the 16-year veteran was wearing a Boston Red Sox hat that seemed to send a loud-and-clear message: His intended audience was Boston. He wants to go back. And he didn't care if the bad optics offended anyone on his last day as a Net.

Pierce wouldn't commit to returning to the Nets after they lost their second-round series to the Miami Heat on Wednesday night, even though he said he wants to play one or two more years. Yet he had no problem earlier this season speaking at length about how he'd love to finish his playing days with the Celts.
[ESPN New York: Pierce, Garnett experiment a letdown]
When asked about a potential return to Boston earlier this season, Pierce didn't rule out the possibility, but suggested that was more likely to occur after his playing days. Pierce has said he envisions a possible front office role with the Celtics when he hangs up his hightops and you can easily imagine that scenario (think Jason Varitek and his special assistant to the GM role with the Red Sox).
But Pierce returning to Boston to close out his playing career? We've pondered that scenario recently and, unless there's some serious fireworks from the Celtics early this offseason, it simply seems unlikely that Pierce would desire to finish his playing days without a surefire chance to compete for a title.
Pierce, who will turn 37 before the start of next season, showed during the 2013-14 season that there's still plenty left in his tank. Former coach Doc Rivers often suggested that Pierce could play until he's 50 because of his crafty nature. Nostalgic Celtics fans, punch drunk from a 57-loss rebuilding season, will fantasize about Pierce returning to provide the sort of veteran leadership that could aid Boston's younger players, but Pierce's focus at this stage of his career is almost certainly on adding the titles that would cement his NBA legacy.
Our gut tells us Pierce is more likely to end his playing days with a top title contender. If Garnett elects to return to Brooklyn for that final season of his current contract, Pierce will feel a strong pull to stay alongside his good friend, the one that he talked into the summer blockbuster that delivered the duo from Boston, despite the Nets' future uncertainty.
If Garnett rides off into the sunset, Pierce will find no shortage of interest from contending teams. He'll almost certainly feel a strong pull from the West Coast, especially if Rivers phones to recruit him for a Clippers team that met the same disappointing second-round demise as the Nets despite similar championship aspirations.
Pierce, an Inglewood native, would likely be intrigued by the idea of playing back home. Dare we ponder if he might even consider closing out his playing days with a (gulp) Lakers team that he once feverishly cheered as a child? (Don't fret about that quite yet, Celtics fans, as the Lakers need plenty of their own fireworks to make Pierce truly consider that).
Ultimately, the Celtics need to remain locked on the future rather than dwelling on the past. The idea of a Pierce return is fun to consider, but Boston's focus right now should be on identifying the players that can lead the team the way Pierce did in his 15 seasons here.
If nothing else, Pierce already did his part to aid Boston's future. The three first-round draft picks delivered in that deal will go a long way toward helping the Celtics return to contender status, while the Nets might have paid a hefty ransom for five playoff wins.
[Additional reading: Pierce: One or two more years left | Nets Summer Scoop]