It seems undue to suggest that a team with 17 championship banners hanging from its rafters is unlucky. Sure, the Boston Celtics haven't had much good fortune when it comes to the NBA's draft lottery, but the franchise is far from snakebit.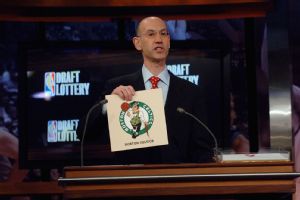 Jennifer Pottheiser/NBAE/Getty Images
Adam Silver's revealing the Celtics as the No. 5 pick in 2007 was the worst-case scenario. Will they fare better this year?And yet a fan base already longing for the sweet taste of competitiveness after just one rebuilding season will clutch its collective rabbit's feet, shamrocks and any other green-tinged good-luck charms it can find when the NBA finalizes the 2014 draft order on Tuesday night in New York City.
When the pingpong balls are drawn to determine the draft positions, the Celtics will own a 10.3 percent chance at the No. 1 selection and a 33.4 percent shot at a top-three pick. The odds lean heavier toward Boston's walking away with the fifth or sixth pick in this year's draft.
The lottery draw will occur before tipoff of Game 2 of the Eastern Conference finals between the Miami Heat and Indiana Pacers, a series that ought to make Boston wistful after three visits to that round since its last lottery appearance seven years ago.
And it's somewhat ironic that this year's Western Conference final features the Spurs' Tim Duncan and Thunder's Kevin Durant, the two players whom Boston missed out on when the pingpong balls defied them during the 1997 and 2007 lotteries.
This time around, it's fair to suggest that those in the Celtics organization are cautiously optimistic about their chances. Since the odds are not as heavily in the team's favor this time around, vaulting to a top spot would be a sweet victory, but defeat would not pack quite the same stomach punch as previous lottery failings.
Oh, it'll still hurt. Vaulting in the draft is a rare chance to jump on the rebuilding accelerator.
But the Celtics take pride in the fact that they are not at the mercy of the draft lottery. And maybe that's why Celtics president of basketball operations Danny Ainge snickers when asked if he'll have any lucky charms in hand when the envelopes are opened.
"No. I believe what's going to happen will happen," Ainge said. "And we're prepared for whatever happens."