For Colton Iverson, a 10-month stay in Turkey to start his pro basketball career was one extended business trip. Battling the mental grind of overseas hoops, Iverson often reminded himself that he was working toward his ultimate goal of earning a spot on the Boston Celtics' 2014-15 roster.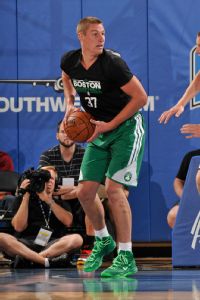 Fernando Medina/NBAE/Getty
Colton Iverson averaged 7.2 points and 4.8 rebounds over 17 minutes per game for Besiktas last season.The Celtics bought the 53rd pick in the 2013 draft to nab the 7-foot Iverson, but facing an expected roster crunch, they asked the second-round selection to spend a year overseas and fine-tune his game. Iverson returned stateside earlier this month and will soon get an opportunity to showcase his development, all with a hope of sticking with the Celtics this time around.
"I know I still have to prove myself," Iverson said this week from his native Yankton, S.D. "It's not going to be easy, but I'm going to be preparing as much as I always do."
It's Iverson's tireless work ethic that ought to help him state a case for a roster spot. Those closest to him often point to a desire to "outwork people" and believe that he's willing to do whatever is necessary to earn his first NBA job.
Celtics director of player personnel Austin Ainge, who visited Iverson during his time with Turkish squad Besiktas, said the team remains high on his game, but it's ultimately on Iverson to play his way onto the team.
"My message to Colton has been, 'Just come in and work so hard that everyone wants to find a way to make it work,'" said Ainge.
Iverson has done his best to impress Celtics decision-makers from afar. Now, he'll travel to Boston as early as next week to join veterans in offseason workouts with hopes of turning heads up close.
Iverson won't be a stranger to the Green, which kept close tabs on him overseas. That includes coach Brad Stevens, who got an up-close glimpse of Iverson during his first days as Celtics coach last July at summer league.
The way the team stayed in touch with Iverson during his extended overseas foray kept him motivated about the future.
"It's always good to hear from [team management], just to know they are following up on you and watching all your games," said Iverson. "Coach Stevens was pretty busy throughout the year, but I stayed in good contact with him and management. It was just reassuring to know that they are still supporting you even though you're halfway across the world."