Boston Celtics president of basketball operations Danny Ainge and his staff have spent countless hours tracking this year's draft class, and that pursuit is unlikely to relent until names start getting called on June 26.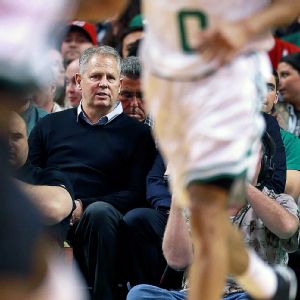 Jim Davis/The Boston Globe/Getty Images
Danny Ainge and his staff have a busy month of June ahead.The Celtics will wrap up their evaluations by trying to bring in as many potential draftees as possible in early June, all with the hope of getting a final up-close and unscripted look at the players on the team's draft radar.
"I think it is exciting, it is fun," Ainge said of the post-lottery/predraft stretch. "This is an exciting time of the year, an exciting time for our franchise."
After the NBA's draft combine in Chicago earlier this month, a Celtics contingent flocked to the West Coast to observe some of the draft's top prospects (and combine skippers) in private workouts in Santa Monica, California. On Wednesday, Ainge & Co. zipped down to New York for another group workout that included Noah Vonleh and Tyler Ennis, two players who could be in play when the team picks at Nos. 6 and 17 in next month's draft.
At this point, you wonder just how much can be gleaned from some of these prepared workouts, particularly considering that much of the action is scripted individual drills. Ainge reiterated in the aftermath of the Chicago combine that there was little outside of each team's private interviews that was beneficial from the league's largest predraft gathering.
Maybe the biggest accomplishment in Chicago is lining up private draft workouts, like the ones the Celtics will begin conducting at the team's training facility in Waltham starting next week.
It's unlikely Boston will be able to lure the draft's top names to town, hence the trek out west to get as much of a glimpse as possible at the likes of Joel Embiid, Jabari Parker and Andrew Wiggins. But the team expects to bring in many in the next tier of talent -- players the Celtics could eye if they hold onto the No. 6 pick -- including the likes of Vonleh and Marcus Smart.
Ainge has noted how the Celtics can put potential draftees through the team's own set of testing, which has often included more rigorous conditioning drills. Boston can also verify the measurements and athletic testing performed at the combine, while members of both the front office and coaching staff get an up-close look during workouts crafted specifically to get a better feel for these young players.
"We spend some time trying to think of the scenarios and drills that can hopefully duplicate playing," Celtics director of player personnel Austin Ainge said.
The Celtics often try to bring in players with similar positions and talent levels, which allows Boston to create 3-on-3 games that simulate game action and allows players to distinguish themselves against their draft class peers. For instance, Boston appears to have a wing-heavy workout scheduled for June 3 consisting of players who are likely to be available in the mid-to-late first round where Boston has the No. 17 pick via last summer's swap with the Brooklyn Nets.
These private workouts take players out of their typical comfort zones and give Boston decision-makers a chance to evaluate them on their terms -- something that's simply not possible no matter how many games or organized workouts the team attends.
What's extracted from these private workouts will help cement how Boston will proceed through June's draft. Danny Ainge has been sure to stress that all options are on the table at the moment.
"We can do anything from taking the two draft picks and continuing to add to our young talent, or we could make some bigger deals that speed up our [rebuilding] process -- and everywhere in between," Ainge said. "I think that everything is possible, and it's going to be a really interesting next month."