WALTHAM, Mass. -- In a draft filled with youthful talent, Michigan State forward Adreian Payne is made out to be an old man at age 23.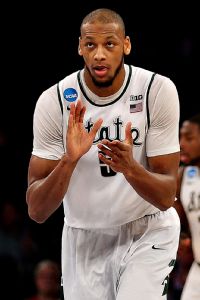 Bruce Bennett/Getty Images
Michigan State's Adreian Payne"All I hear really is, I'm too old and I don't have that much upside," Payne said. "It doesn't really matter. When it's time to get on the court, we'll see who's got the upside and who doesn't."
Payne, who is working his way back from a bout of mononucleosis, conducted his first pre-draft workout with the Boston Celtics on Wednesday as part of a six-man session that included fellow projected first-rounder Clint Capela, a 20-year-old Switzerland native who has been playing professionally in France.
So does Payne feel old among other draft hopefuls?
"I don't feel old at all," he said, then later added, "Yeah, I'm a little older than a couple of the guys. When it's time to get on the court, age doesn't matter. You're just out there to produce for your team and show what you can do. So when it's time to get on the court, age isn't a factor. ... When I get on the court, it's time to play."
Payne is a towering presence at 6-foot-10 with a 9-foot-1 standing reach. Some of the guards at the session raved about being able to lob the ball to him near the rim and watch his athleticism do the rest. And he complements that with 3-point range on his jump shot. Payne is pegged as a first-round pick, with most mocks listing him as a mid-round pick.
Asked about his draft expectations, Payne said, "Right now, all I know is first round. I'm just trying to stay in the first round and continue to move up."
Payne is a former AAU teammate of Jared Sullinger and said he planned to chat with him after the workout session.
As for what he can bring a team, Payne noted, "I think I'll be able to bring a lot of versatility, just being able to do things I can do on the court, especially defensively. Just try to play with intensity and do anything I can do for my team. Stretch the court. Run. Rebound. Block shots."
A few more notes from Wednesday's session:
• RUDD ON THE REBUILD: South Florida's Victor Rudd is a former high school teammate of Avery Bradley at Findlay Prep in Las Vegas. It's that relationship that caused him to keep an eye on the Celtics in recent seasons. "I played with Avery Bradley in high school, so I watched a lot," Rudd said. "I've seen some of the things -- like the new guys and the rebuilding of the team and [Rajon] Rondo coming back [from ACL surgery]. I watched a lot." And what's his take on the rebuilding process? "They're going to get better," Rudd said. "They have arguably one of the best point guards in the NBA and Jeff Green, one of the best players in the NBA. I think the rest of the guys are just going to get better."
• IVERSON IN TOWN: Colton Iverson, the Celtics' second-round pick in last year's draft, is in town to start working out with veterans as part of the next step in his quest to earn a roster spot on the 2014-15 squad. Hop HERE to read more on his season overseas in Turkey.
• MARATHON MAN: It's National Running Day today and Celtics assistant coach Jamie Young said he was planning to get in a six-mile trek. Back in April, he was part of a group in the Celtics organization that ran the Boston Marathon. Young finished in a time of 4 hours, 24 minutes (grinding through the last six miles). The best part he said: The fans cheering the runners on and helping to raise $11,000 for the Shamrock Foundation.