WALTHAM, Mass. -- When Wednesday's workout for his hometown Boston Celtics was complete, Noah Vonleh wandered to one corner of the practice gymnasium and plopped down next to assistant coach Walter McCarty.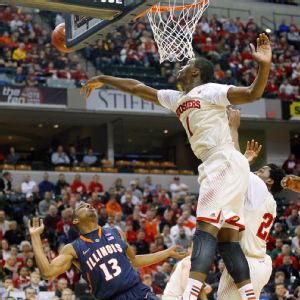 AP Photo/Kiichiro Sato
Noah Vonleh uses his long reach and huge hands (11.25 inches wide) to block shots -- like this one during the Big Ten Conference tournament in March.Now, Vonleh was only 2 when McCarty got traded to Boston in 1995, but like anyone raised on late-'90s/early-2000s hoops in these parts, Vonleh is plenty familiar with the "I love Waltah!" era of Celtics basketball.
The two 6-foot-10 hoopsters engaged in some small talk, maybe some Indiana chatter considering the Hoosier State is where McCarty grew up and where Vonleh played his college ball. With the possibility that Boston might target Vonleh with the No. 6 pick in this month's draft, McCarty dispensed some advice about where Vonleh might live if he played for the Celtics.
"All the workouts were pretty good, but this one just had a little bit more meaning to it because it's my hometown," said Vonleh, a native of Haverhill, Mass., who played two seasons of high school ball for his hometown Hillies before prepping at New Hampton in New Hampshire.
"Not everybody gets a chance to work out for their hometown team. This is a great opportunity," he said.
Celtics director of player personnel Austin Ainge remembers watching Vonleh compete against his younger brother, Crew, in high school and knew Vonleh would be at the NBA level sooner than later. Now, here's Vonleh, just 18 years old with a gargantuan wingspan (7-foot-5), monster vertical (37 inches), and freakish hands (11.25 inches wide), ready to hear his name called in the high lottery.
"Obviously, being local here, we've heard about him for a long time," said Ainge. "He played in my little brother Crew's high school conference. I saw him play there a few times. He's a very intriguing player, a lot of physical tools, but very young."