The Boston Celtics owns picks Nos. 6 and 17 in Thursday's NBA Draft (ESPN, 7:30 p.m.) Here's a recap of some of our draft coverage to set the table for the event: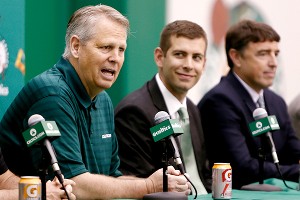 Winslow Townson/USA Today Sports
Danny Ainge and the Celtics are well-prepped for the 2014 NBA Draft.
What you need to know
• Celtics must consider all options: The Boston Celtics are set to embark on what they hope is a franchise-altering week. But how exactly that transformation will occur, just how seismic the moves they make will be, and how fast they'll see results from this part of the rebuilding process is anyone's guess.
• Celtics Mailbag: Lots of balls in the air: Draft night is entirely unpredictable. Just look at last year when Anthony Bennett was a surprise No. 1 and the Celtics shook up their roster by dealing Kevin Garnett and Paul Pierce to Brooklyn. What will happen this year? Nobody can know for sure. But let's make a few educated guesses while opening your letters.
• Where does Rondo fit for C's?: Rajon Rondo has stressed that he wants to win and win now. He's also said that he's not content to just get back to the playoffs; he wants to compete for titles. Celtics president of basketball operations Danny Ainge is most certainly efforting that process, but he must balance the need to build correctly, not quickly.
• Setting the draft board: By the time the NBA Draft arrives Thursday, the Boston Celtics will have brought in just about every available draft prospect -- at least those willing to work out for the team -- in what's essentially the final evaluation in a tireless college scouting process.
• Group workout list: A look at the nearly 60 names that Boston brought in as part of group workouts since the start of the month.
• Lack of late pick doesn't deter C's prep: The Boston Celtics do not own a second-round pick in the 2014 NBA draft, but that hasn't stopped them from examining players that might available after their two first-round selections, particularly players projected to be second-round picks or go undrafted.
• Boston's top 15 picks since 1978 | Top 5 busts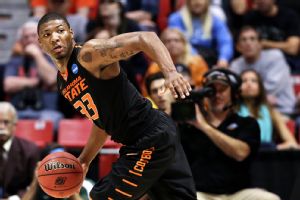 AP Photo/Gregory Bull
Could Marcus Smart be Boston's choice at No. 6?
Top options at No. 6
• Joel Embiid: Like the rest of the league, the Boston Celtics are attempting to obtain as much information as possible about Joel Embiid's medical issues, particularly the fractured right foot he recently had two screws inserted in, all with the goal of making an informed decision should Embiid become available to the team in next week's draft. [C's weigh risks with Embiid]
• Marcus Smart: Oklahoma State's Marcus Smart had just completed a workout for the Boston Celtics that featured some of the other top guards in this year's draft class and he was asked if he had a chance to chat with Rajon Rondo. Smart's eyes lit up and you couldn't be sure if he wanted to say hello to Boston's All-Star point guard or challenge him to a game of 1-on-1. [Get Smart? An intriguing guard option]
• Aaron Gordon: Before Kevin Love stole the spotlight, Aaron Gordon was Boston's most famous visiting hoopster. Gordon, in town last month for his sister's graduation from Harvard University, got caught napping -- ball in hand -- on a red line train after a local workout. The cell phone photo went viral, as did speculation that he was here to meet with a potential future employer in the Boston Celtics. [No sleeping on this visit to C's]
• Noah Vonleh: When Wednesday's workout for his hometown Boston Celtics was complete, Noah Vonleh wandered to one corner of the practice gymnasium and plopped down next to assistant coach Walter McCarty. Now, Vonleh was only 2 when McCarty got traded to Boston in 1995, but like anyone raised on late-'90s/early-2000s hoops in these parts, Vonleh is plenty familiar with the "I love Waltah!" era of Celtics basketball. [Vonleh right at home with C's]
• Julius Randle: The 6-foot-9 Randle is one of the draft's most intriguing players. Back at the start of the college season, he was in the conversation with Andrew Wiggins and Jabari Parker as potential top picks, but soon saw Kansas big man Joel Embiid take his spot. Now Randle seems to project as more of a mid-lottery guy and you can't help but wonder if the concerns about his foot might leave prospective teams even more hesitant. [Randle's solo dance for C's]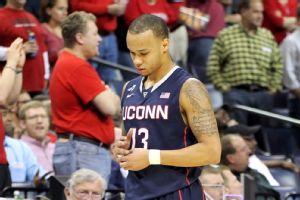 Nelson Chenault/USA TODAY Sports
Could Roxbury's Shabazz Napier be an option at 17?
Top options at No. 17
• Zach LaVine: At the end of a recent workout for the Denver Nuggets, UCLA's Zach LaVine was asked to show off his dunking ability. With seemingly minimal effort, LaVine produced a pair of bounce-ball slams, the first going between his legs, the next behind-his-back as fellow draft hopefuls and observers just shook their heads and laughed. [Bouncy Bruin: Could LaVine hop to C's?]
• Shabazz Napier: Shabazz Napier swore the green-checked dress shirt was merely coincidental. Cleanest thing in the suitcase, he pleaded. [Good in Green? Napier visits C's]
• Elfrid Payton: Louisiana Lafayette's Elfrid Payton seems to have steadily climbed draft boards recently, but that's done nothing to diminish the chip on his shoulder. Every workout is a chance for the mid-major point guard to prove himself and he seemed particularly focused on Friday's session with the Boston Celtics. [(Mid-)Major chip on Payton's shoulder]
• T.J. Warren, P.J. Hairston: Before one game late in the 2013-14 season, Boston Celtics coach Brad Stevens had been talking glowingly about the intangibles of a player when the conversation swung to a more general question about the best qualities an individual could bring. Stevens pondered the inquiry for a moment, then smiled while noting that being able to score 35 points per game wouldn't be a bad thing for a player.
[The perfect score: C's could eye offense at No. 17]
• Adreian Payne: In a draft filled with youthful talent, Michigan State forward Adreian Payne is made out to be an old man at age 23. "All I hear really is, I'm too old and I don't have that much upside," Payne said. [Age-old issues for Payne]
• Dario Saric: Croatia forward and 2014 NBA draft prospect Dario Saric has agreed in principle to a three-year deal with Turkish powerhouse Anadolu Efes. The deal will have a player option for the third year. The move will essentially prohibit Saric from playing in the NBA for a minimum of two years. [Saric to stay in Europe]
Others of interest
• Kevin Love: Kevin Love sauntered into Boston's lyric little baseball park earlier this month and -- just like that -- suddenly the possibilities seemed endless for a storied basketball franchise that has a deeply scarred psyche when it comes to luring top talent to town. [Love to Boston is no slam dunk]
• Doug McDermott: Truth be told, Doug McDermott thought the idea was crazy. But when Sports Illustrated calls pitching to put you on the cover of their magazine with a chance to honor one of your basketball heroes, you go along with whatever they say. [McDermott shoots down Bird comparisons]
• Nick Johnson: The freckles beneath his eyes hint at his connection to the Boston Celtics and when Arizona's Nick Johnson was asked what it meant to be working out for the team, his eyes shot skyward and scanned Boston's championship banners and retired numbers before landing on his uncle Dennis' No. 3. [Green is in his blood]