The morning after the trade deadline passed in February, the Boston Celtics convened for a morning shootaround at the Staples Center in Los Angeles. Captain Rajon Rondo, whose name had swirled in trade whispers, was asked whether he was happy to have the deadline in the rearview mirror.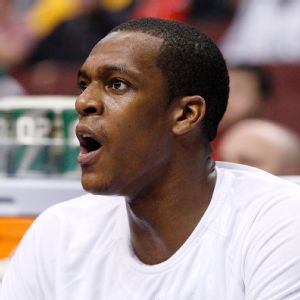 AP Photo/Chris Szagola
Rajon Rondo will no doubt be watching the Celtics' NBA draft moves with great interest.Rondo shrugged and offered a tepid response. Even he knew that the passing of the trade deadline offered a mere four-month reprieve from speculation about his future.
Sure enough, as Thursday's NBA draft approaches, there are whispers again about whether bidders will make a run at Boston's All-Star point guard.
Rondo is set to enter the final year of a five-year, $55 million extension he inked in October 2009. He'll make $12.9 million this season, but after taking a bit of a discount coming off his rookie pact, Rondo's real payday looms next summer when he'll become an unrestricted free agent.
You can understand why the rumors swirl; the Celtics have a difficult decision to make. If Rondo is one of the building blocks of their future, then they must be prepared to pay him big money -- likely more than $100 million over the next five seasons (though maybe they could get a slight discount for tossing in the no-trade clause that would slow the rumor mill in which Rondo has churned throughout his career).
The Celtics, coming off a 57-loss campaign in Brad Stevens' first season at the helm, are in the midst of a rebuilding process with an indeterminate finish line. Boston, having stockpiled assets since last summer when the core of the team was dismantled, is in position to accelerate the process. Alas, there is no definitive roadmap to returning to contender status.
Rondo has stressed that he wants to win and win now. He's also said that he's not content to just get back to the playoffs; he wants to compete for titles.
Celtics president of basketball operations Danny Ainge is most certainly efforting that process, but must balance the need to build correctly, not quickly. The Celtics are sitting on a goldmine of draft picks, as many as 10 first-round selections over the next five drafts, including picks Nos. 6 and 17 in this year's event.
For Ainge, there's a value in utilizing these initial picks to create a low-cost, high-potential base of young players on rookie deals, while choosing his spot to trade the others to add more established talent.