LOWELL, Mass. -- Four days before his July wedding, Tyler Zeller learned that he had been traded to the Boston Celtics. He phoned his wife-to-be, Caitlyn, who was too busy preparing for the big day to answer her phone.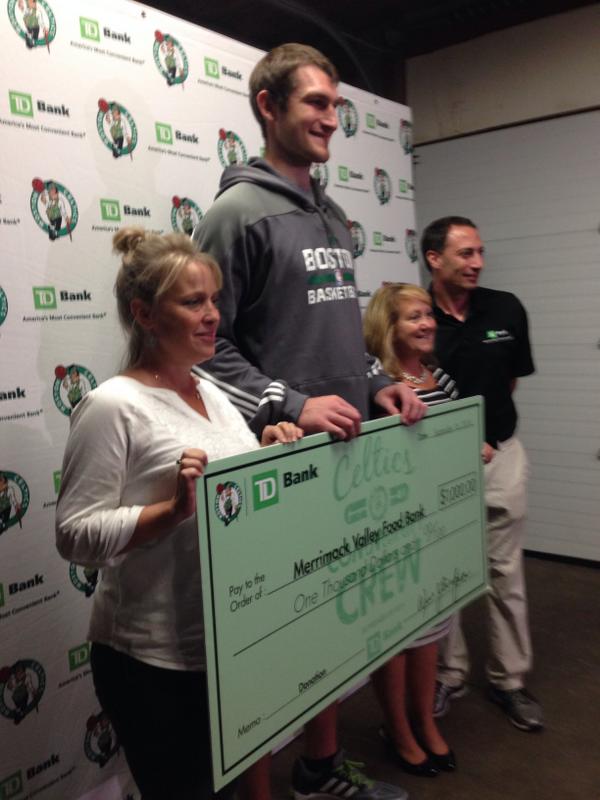 Chris Forsberg/ESPN Boston
Tyler Zeller delivers a donation from the Celtics to the Merrimack Valley Food Bank."She was getting her hair done -- a practice 'do or whatever -- and her mom picked up. I was like, 'I need to talk to my fiancé,'" explained Zeller. "[His mother-in-law] was like, 'OK, she'll call you when she gets done.' I was like, 'No, no, no, I kinda need to talk to her now.' [The conversation] went well, she took it very well and she was very excited to be here."
The Zeller family visited the Merrimack Valley Food Bank to help sort and distribute goods on Tuesday afternoon. Zeller also met with Boston reporters for the first time since the July swap that saw Boston bring him on, along with Marcus Thornton, as part of a three-way trade in which the team utilized a hefty trade exception.
With two months to process the change of address, Zeller expressed excitement to be with the Celtics. In fact, he used the word "excited" nine times during a nine-minute Q&A with reporters, particularly when referencing a partnership with head coach Brad Stevens.
"I know Coach Stevens is a very intelligent basketball coach; his basketball IQ is kinda off the charts, so I'm very excited," said Zeller. "And working him the past few weeks, everything has been very exciting, just to see his basketball knowledge and just how detailed he is."
The 24-year-old Zeller -- the middle of three NBA-playing Zeller brothers -- is familiar with Stevens after the former Butler helmsman recruited his siblings. Stevens has previously admitted he never really had a shot at Tyler, who landed at the University of North Carolina.
"He didn't recruit me as heavily, but he recruited my older brother, Luke, very heavily, so I kinda got to know him through that," said Zeller. "I'm just very excited because of his basketball IQ and how brilliant of a coach he is. I know Gordon Hayward, who played for him, and he was always excited about his basketball IQ."
Zeller doesn't remember the first time he crossed paths with Stevens and jokes that, "I actually wasn't very good at basketball at that point in time."
He's gotten decidedly better, emerging as the 17th pick in the 2012 draft. Now Stevens is hoping to maximize that potential in Boston, where a roster lacking pure size ought to give Zeller every opportunity to earn heavy minutes at the center position.
But Zeller isn't taking the starting spot for granted.
"I think [starting at center is] my goal this year," said Zeller. "I have a lot of work to do to earn that spot. I expect to have to earn it. But I think it is a great opportunity."
The first step in that process was bulking up this offseason. Zeller, who played at around 250 pounds in Cleveland last year, said he has added about 10 to 15 pounds with a desire to increase his ability to joust among the league's giants.
"I feel like I'm doing well," said Zeller. "I felt like last year I played a little underweight and if I gained 10-15 pounds, I'd be able to hold my own a lot better down there. I was able to do that, and hopefully I can continue to get better and better. I hope that will help me hold my own, rebounding-wise, as well as in the post."
Zeller is hoping to find a balance between adding bulk and maintaing an ability to run the floor. He's hoping to fuel an up-tempo offense by rebounding and pushing the pace.
Read on for other notes and quotes from his Q&A:
• Sophomore slump?: Zeller's numbers dipped a bit in Year 2, likely the result of inconsistent playing time. Asked about the downturn, Zeller noted how Cleveland experienced a "change in the whole system -- different players, different coach, different everything. It was one of those things where -- I got my appendix out in training camp, so I was always trying to catch up from that. I don't really know if it was one thing, I think it was a lot of things, then towards the end of the year I kinda started hitting a little bit of a groove and hopefully I can continue that."
• More rebuilding: Zeller keeps a sense of humor about being dealt from a team that's now the favorite to win the NBA title. In a way, the Celtics helped facilitate LeBron James' return to Cleveland by taking on Zeller's contract as part of the trade. Zeller knew his future with the Cavaliers wasn't certain. "There was kind of rumors all year about a million different things going on," he said. "I know at the trade deadline there was talks of being traded then. It's one of those things that, when you play in the NBA, you have to be prepared for at any time and you have to do your best wherever you are. I'm really excited to be here and I think it's a great opportunity."
• Echoes playoff hopes: Zeller joined the early chorus of Celtics players who believe the team has the potential to exceed expectations, but understands the situation here. "It helps to know that we're probably not going to win 60 games and set records with wins or anything like that," said Zeller. "But I think we have a great opportunity to make the playoffs and make a run there. I think it's also an opportunity where, if you lose a couple in a row, you have to stay focused and can't get discouraged and just keep working away."
• Never visited Boston: The Celtics had two picks in the 2012 draft -- Nos. 21 and 22 -- but Zeller never came for a pre-draft workout. "I did an interview with them [at the pre-draft combine in] Chicago," he said. "But I didn't really get an opportunity to make it out here. I was hoping I wouldn't go that low, but you never know." The Celtics snagged potential frontcourt partner Jared Sullinger at No. 21, then swung and missed on center Fab Melo a spot later.
• Still getting back in shape: Zeller joked he fumbled some food items at the Food Bank. "We kinda helped out the volunteers in any way possible, sorted some food," he said. "I broke a box, spilled macaroni all over the floor. So I wasn't always productive, but I tried."