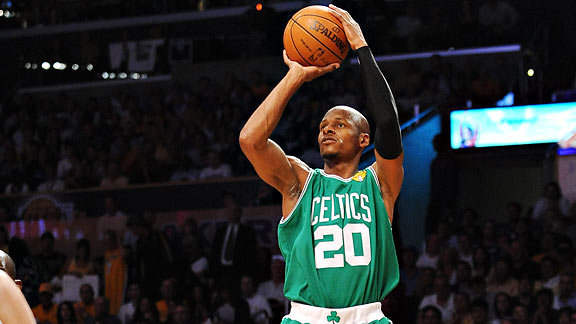 Noah Graham/Getty Images
Ray Allen broke the Finals record for 3-pointers in a game.LOS ANGELES -- Celtics guard Ray Allen set a new NBA record for 3-pointers in a game with his eighth of the night in the third quarter of Game 2 against the Lakers at the Staples Center.
Limited to 27 minutes due to early foul trouble in Game 1, Allen never got in a rhythm, connecting on 3-of-8 shots, but no 3-pointers, while finishing with 12 points.
Allen connected on the first seven 3-pointers he attempted in Sunday's game before one rimmed out late in the first half. Allen finished 9-of-14 shooting for 27 points in the first half. Of Allen's nine first-half makes, six were assisted by Rajon Rondo.
Allen, who hit seven 3-pointers during a Finals game in 2007, had previously tied his own mark, also done by Houston's Kenny Smith in 1995 vs. Orlando and Chicago's Scottie Pippen in 1997 vs. Utah.
"It's definitely right up there, because there's no better place, moment, time to play a game, to win a game, and to win in a great fashion where everybody has to do it together as a team, and to be able to shoot the ball," Allen said of the mark after the game. "And I don't know what record it is that people are telling me that I got, but it's great to have. Great to be able to look back on it and say I did that. This is definitely the time. This is definitely our time."