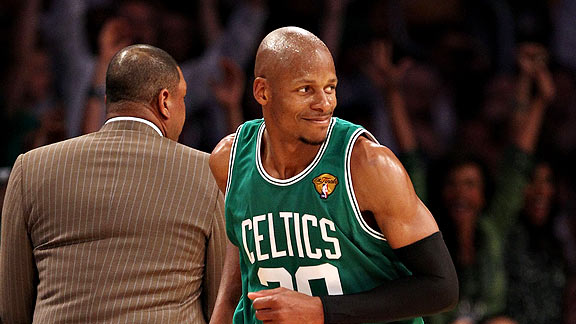 Christian Petersen/Getty Images
Ray Allen hit six first-half 3-pointers for Boston.LOS ANGELES -- Instant reaction after the Boston Celtics posted a 103-94 triumph over the Los Angeles Lakers in Game 2 of the NBA Finals Sunday night at the Staples Center:
How the game was won: Rajon Rondo produced a triple-double with 19 points, 12 rebounds, and 10 assists, while Ray Allen scored 27 of his game-high 32 points in the first half as the Celtics evened the series. Pau Gasol scored a team-high 24 points for the Lakers, while Kobe Bryant and Andrew Bynum added 21 points apiece in defeat.
Turning point I:The Celtics build a 14-point lead in the first half behind Allen's red-hot 3-point shooting, but couldn't sustain it. The Lakers trimmed their deficit to six at halftime, then scored nine of the first 11 points of the second half, culminating with Gasol's 15-foot jumper for a 57-56 lead with 10:02 to play in the third frame.
Turning point II:Kobe Bryant's bucket with 5:20 to go put the Lakers out front, 90-87. Los Angeles wouldn't score again until 52.3 seconds remaining, but Boston had built an eight-point lead at that point and never let things get close again.
Stat of the game: After being outmuscled and outhustled in Game 1, the Celtics finished with a 44-39 advantage in total rebounds, including a 13-10 edge on the offensive glass.
Broken records: Ray Allen set a new Finals record for 3-pointers in a game (8), while the Lakers established a new single-game mark for blocks (14).
Unsung hero: Bynum, playing with a troublesome knee that had fluid drained before the start of the Finals, scored 21 points over 39 unfathomable minutes. He connected on 6-of-10 shots for 21 points with a staggering seven blocks and six rebounds.
What it means: The Celtics earn a split in Los Angeles and have stolen homecourt advantage as the series shifts to Boston for three games. This one could have really taken the air out of the Green after they fumbled away a 14-point, first-half lead. Instead, the Celtics came up with all the big plays late in the game, and leaned on their defense over the final 5:20, allowing only four points during that span.