Sunday, March 14, 2010
Postgame notes: Baby hears the boos

---
By Chris Forsberg

CLEVELAND -- A collection of postgame news and notes after the Cleveland Cavaliers defeated the Boston Celtics 104-93 Sunday afternoon at Quicken Loans Arena:

The rundown (a quick look at the postgame headlines)
* Big Baby hears boos from crowd
* Boston's bench MIA in Cleveland
* Games before games for Cavs

Big Baby hears boos



Celtics forward Glen Davis turned around from getting dressed at his stall inside the visitor's locker room to find a large media throng waiting for him.

"You all here for me? I wonder what you want to talk about," said Davis, feigning ignorance after a somewhat unremarkable performance in which he scored four points and grabbed three rebounds (all offensive) in 15 minutes.

Hounded by boos throughout Sunday's game, the Cleveland media was eager to hear his explanation about ThumbGate after video emerged of him tugging on Shaquille O'Neal's injured thumb during the Feb. 25 game in which O'Neal tore ligaments in the digit, ending his regular season.

Asked about the crowd's reaction, Davis didn't avoid the questions.

"You guys made it look like I intentionally tried to hurt [O'Neal], but I wouldn't dare do that," said Davis. "Fans are fans, and they're used to heckling me and booing me. It is what it is."

Davis was fined $25,000 earlier this season for shouting an obscene phrase at a fan heckling him in Detroit. In a season where he's been pulled to the headlines as if he's carrying magnets in his pocket, Davis was forced to again explain the most discussed thumb war in NBA history.

"I wasn't paying attention and I didn't even know his thumb was hurt," said Davis, who endured a thumb injury of his own after an off-court altercation led to him missing the first 27 games of the regular season. "He made no indication. I was just playing basketball, trying to be a defensive agitator. I was messing with him, stuff like that. I never thought, in my mind, his thumb was hurting. I didn't find out until he called time out and said his thumb was broken. I was walking by the huddle, [thinking] 'Damn.' I didn't pay any attention to it."

Already showered with boos, Davis drew even more ire when he put a hard box-out on Anderson Varejao as the two chased a loose ball late in the third quarter. Varejao spilled hard into the front row as Davis prevented him from getting to a rebound as it trickled beyond the end line.

A local reporter questioned Davis after the game about whether his physical play "crossed the line." Davis earned a flagrant foul (that was later rescinded) earlier this year in a loss to the Hawks.

"I find if I cross the line, I get [technical fouls]," said Davis. "My job is to play hard. I'm an energy guy. I get loose balls. I go out there and try to be a factor.

"I'm a big guy. When I foul, it's usually to make sure [an opponent] doesn't make a layup or an and-1. I'm trying to make my presence felt under the rim. just trying to play the game like it's supposed to be played. I'm not trying to hurt somebody."

Davis did express remorse over one thing: failing to match Varejao's energy and impact Sunday.

"[Varejao] was huge for them -- 17 [points] and 10 [rebounds] coming off the bench," said Davis. "I kind of felt he was my responsibility -- energy and energy -- I'm the energy for this team, he's energy for them. It's frustrating to watch."

Celtics coach Doc Rivers singled out Davis' effort.

"I thought he played great. His energy out there was absolutely wonderful," said Rivers. "And Baby's been doing that more and more for us. He's the only one who made a physical play the entire night, when he knocked down Varejao."

Boston's bench MIA in Cleveland

Two nights after producing their second highest scoring output of the season, Boston's bench was woefully ineffective Sunday against the Cavaliers.

The seven-man group combined to go 5-of-25 (0-for-6 beyond the arc) for a measly 17 points with just one assist and a cumulative plus/minus of minus-62.

Among the main offenders were Marquis Daniels (0-for-3, 0 points, minus-15 plus/minus) and Rasheed Wallace (1-for-8, 5 points, minus-17 plus/minus).

Rivers seemed particularly displeased with Wallace's effort, specifically his missing so many shots from close range while logging 17 minutes with both Davis and Kevin Garnett hindered by foul trouble.

"Kevin was taken out of the game by foul trouble, but he had a great game -- 28 minutes and you look at what he did, he was terrific. But foul trouble hurt our rhythm and our game plan was to go low. Rasheed didn't give us anything, so basically we became a pick-and-roll team, instead of the post team we had planned on being going into the game."

Boston's bench combined for 54 points Friday vs. Indiana, second only to its 62-point effort against Philadelphia on Nov. 3.

Games before games


Chris Forsberg / ESPN BostonAn xBox and stereo at every locker for LeBron James and the Cavaliers.

The Cleveland locker room doesn't feel like much of a locker room at all.

With xBox 360s and full stereo systems at every locker (look behind LeBron James in the photo above or check out the full locker room shot below), Cavs players have no shortage of entertainment options, with TV screens built right into their stalls. When time allots, a player can simply swivel his chair around and relax.

With a bank of flat screen monitors showing game film along one wall and a kitchenette nearby, former colleague Julian Benbow of The Boston Globe cracked that it looked more like a Best Buy.

In a league often featuring bland locker rooms where players bury their heads in iPhones, iPods and Blackberries, the Cavs' locker room invites players to spend extra time at the gym.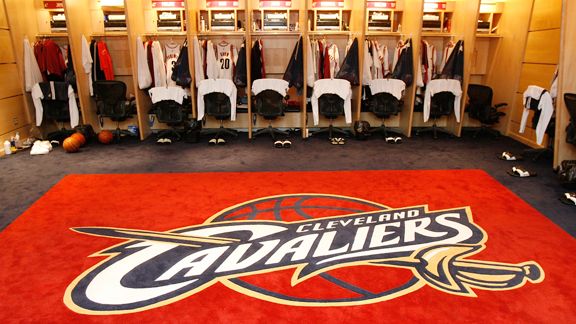 Nathaniel S. Butler / NBAE / Getty ImagesA view of the Cavaliers' locker room.
---