Wednesday, October 27, 2010
C's finish at rim vs. Heat

---
By Chris Forsberg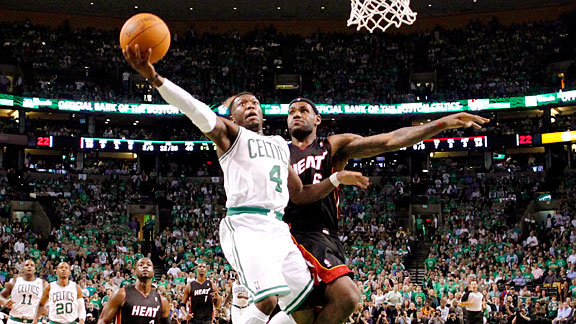 David Butler II/US PresswireNate Robinson did a nice job finishing near the rim (just not on this shot with LeBron James lurking).

The No. 1 thing that jumped out to me examining HoopData's advanced box score from Boston's season-opening triumph over Miami was this: The Celtics' bench mob of Glen Davis, Marquis Daniels, and Nate Robinson finished a combined 9-of-10 shooting at the rim, helping Boston shoot 61.6 percent there for the night (16-of-26 overall).

Consider this: David shot a mere 51.8 percent at the rim last year and got blocked a whopping 17.9 percent of his total field-goal attempts. Daniels only averaged 2.2 shots per game at the rim last year, down nearly three shots per game from the five he averaged there in 2008-09 with the Pacers. Likewise, Robinson attempted only 1 shot per game at the rim for Boston last year, this down nearly two shots from 2.8 he attempted during the other half of the season in New York (and the year before he averaged 4.1 shots at the rim per game with the Knicks). What's more, Robinson shot a gruesome 32 percent at the rim last season in Boston.

But on Tuesday, the Celtics generated 12 of their 25 team assists on buckets at the rim, suggesting players did a good job getting to the rim -- and finishing -- when the defense collapsed on shooters. Davis, Daniels, and Robinson highlighted the output, and this is with the second unit playing without arguably one of its top rim attackers in Delonte West (and without Shaquille O'Neal, who is in the starting lineup as Kendrick Perkins recovers from knee surgery).

On a night in which the two teams combined to go 15 of 63 (23.8 percent) from 10 to 23 feet, the Celtics did their best work around the rim. If Rajon Rondo (2 of 6) and O'Neal (2 of 5) don't have off nights around the basket, the Celtics could have generated even more offense there (and this neglects how many free throws were generated on fouls around the hoop).

Of course, if Miami has one perceived weakness, it's expected to be up front. It's worth watching if the Celtics are able to continue the trend of finishing around the basket against teams with more skilled big men.



---