Friday, November 5, 2010
Reunion time

---
By Chris Forsberg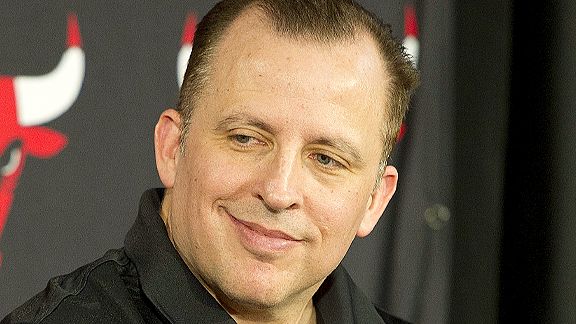 AP Photo/Jim PrischingFormer Celtics assistant Tom Thibodeau returns Friday as head coach of the Chicago Bulls.

Tom Thibodeau spent only three seasons with the Celtics, but when Chicago's new head coach brings his Bulls to Boston, it will be an emotional reunion, writes ESPN Boston's Peter May:

He's coming back, but, honestly, is Boston any more of an emotional reunion for new Chicago Bulls coach Tom Thibodeau than Houston or New York? After all, he spent only three seasons alongside Celtics coach Doc Rivers in Boston. He spent 11 seasons with the Rockets and Knicks.

So is Boston really that big of a deal?

In a word: Yeah.

"It's going to bring back a lot of fond memories,'' Thibodeau said by phone this week, before his Bulls met the Knicks on Thursday night. The Bulls meet the Celtics on Friday night in Boston on ESPN (8 p.m. ET). "What that [Celtics] organization did for me, from ownership to [director of basketball operations] Danny [Ainge] to Doc -- it put me in the position that I'm in today. There's a great appreciation of that on my part."

Click HERE to read the full story.

One other note as Thibodeau braces for his return: His name has changed ... sorta. As ESPN Chicago's Nick Friedell relayed last month (and Marv Albert evidently pointed out during Thursday's Knicks-Bulls broadcast), Thibodeau informed Chicago reporters before the season that his name is actually pronounced, "Thib-o-dough," instead of "Tib-o-dough."

The confusion evidently stemmed from the fact that just about everyone calls Thibodeau, "Tibs" as a nickname, and most everyone simply assumed that's how he pronounced the first part of his name. As Keith Bogans explained, "I knew it. We just call him "Tibs" for short, I don't think anybody wants to say his full name, so we just call him Tibs."



---