Monday, November 22, 2010
Maine Mondays

---
By Chris Forsberg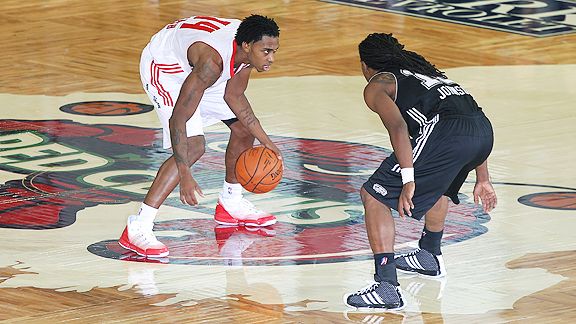 Rich Obrey/NBAE/Getty ImagesJamar Smith dribbles the ball near midcourt during a game against Austin.

Every Monday while the NBA Development League is in session, we'll try to take a quick glimpse at how the Maine Red Claws, Boston's minor league affiliate, are faring with a focus on the Celtics' affiliated players.

WEEK IN REVIEW

The Red Claws (1-1) opened their season by splitting a back-to-back with visiting Austin, dropping Friday's season-opener, but rebounding in Saturday's rematch. Paul Harris scored a team-high 20 points to pace five Claws in double figures on opening night (Maine shot a solid 47.3 percent from the floor overall), but thanks in large part to the 22 offensive rebounds Maine allowed, the Toros emerged with a 103-97 triumph. The following night, Jamar Smith, one of three affiliated players from Boston, scored a game-high 25 points on 9-of-12 shooting off the bench to spark the Claws to 93-88 victory.

EYES ON THE AFFILIATES

Stephane Lasme: On the eve of the 2010-11 season, the Red Claws announced that Lasme, one of Boston's final (and toughest) camp cuts, would be sidelined indefinitely after undergoing surgery to repair a stress fracture in his left foot (suffered in Maine's only preseason game last Monday night). Lasme started that night, but played only two minutes before incurring the injury that will shelve him for the foreseeable future.

Jamar Smith: One of the nation's top 3-point shooter last season at Southern Indiana (he was named the Division 2 Player of the Year there), Smith showcased his perimeter skills by connecting on 5-of-6 trifectas in Saturday's 25-point outburst. He's averaging 33.5 minutes per game off the bench, shooting 61.1 percent with a solid stat line (15 points, 5 assists, 4 rebounds, and 2 steals per game through two contests).
Tiny Gallon: Coming off the pine, the 6-foot-9 Gallon, a Milwaukee Buckets draftee who was brought in for the final days of camp with eyes towards assigning to Maine, is averaging 14 points, 6.5 rebounds,and 2 blocks per game (he registered four rejections in Saturday's game). He also produced the monster one-handed jam that appears at the end of this entry.
WHAT'S ON DECK?
The Red Claws get back to work with another back-to-back later this week, this time a doubleheader in Springfield on Friday (7 p.m.) and Saturday (noon). The Red Claws defeated the Armor, 102-88, in preseason play.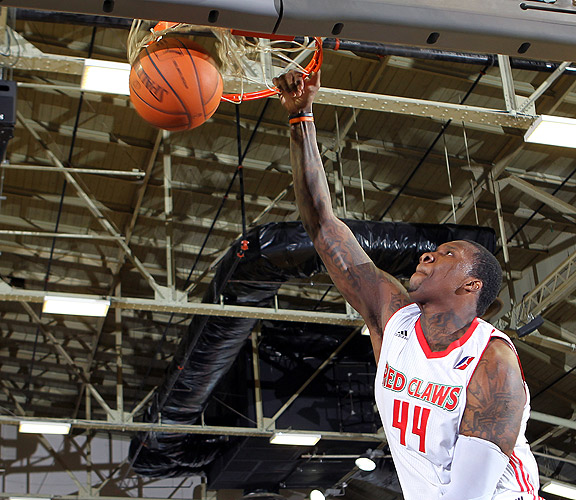 Rich Obrey/NBAE/Getty ImagesTiny Gallon throws down a one-handed jam.
---